Erlangen
Erlangen loses to Kiel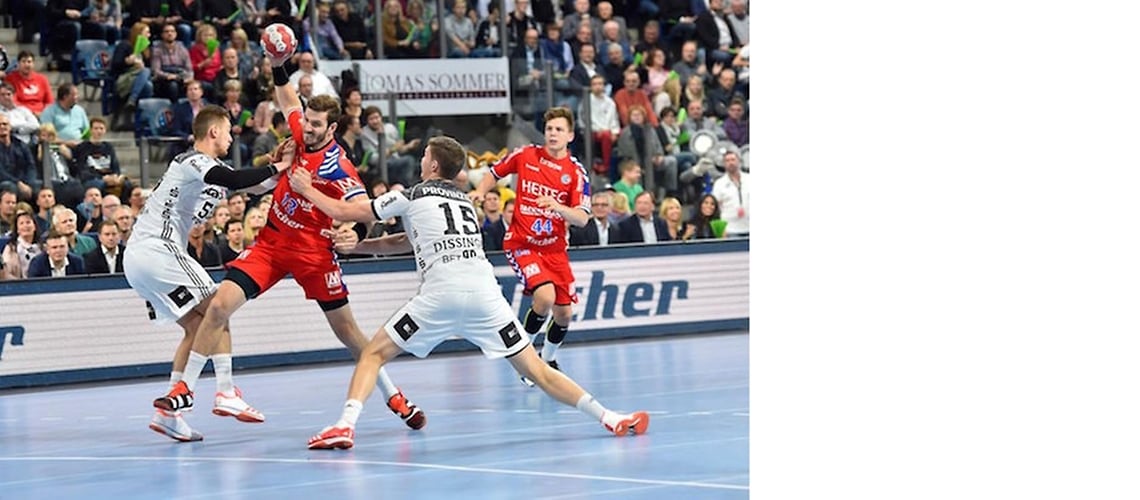 Erlangen, 10-05-2017
HC Erlangen lost its home game this evening against THW Kiel, the club that holds a record number of German championship titles, by 20:31. The team of Head Coach Robert Andersson is now 13th in the DKB German Handball League with 5:9 points and faces its next tough game against Berlin Foxes on Thursday.
More than 5,300 spectators had made their way to the ARENA NÜRNBERGER Versicherung during the week in the hopes of seeing their side pull off a shock against what is probably the world's greatest handball club. Robert Andersson made two changes to his side over the away game in Hanover. Christoph Steinert began as right back, while Christopher Bissel seized his opportunity in the left-wing position. THW Kiel, which has been in anything but commanding form in the past weeks, got off to a good start. Driven on by a very strong Steffen Weinhold, the club from Northern Germany was able to open a gap right away and led 6:2 after ten minutes. The home side from Erlangen then got into the game better and was able to use its chances. However, Kiel always kept the club from Franconia at arm's length. As a result, the two teams went in at half-time with the score 10:14.
After the break, the team of Alfred Gislason added two goals right away to extinguish the home fans' hopes of a comeback. HC Erlangen found it increasingly difficult to break down Kiel's solid defense. And whenever it managed to do that, Olympic champion Niklas Landin repeatedly saved the day. Kiel played out the final spell commandingly and collectedly. The tussle between the HCE and THW Kiel finally ended 20:31.
HC Erlangen now faces a string of away games in the German league starting in a week's time. The first-division club from Franconia comes up against Berlin Foxes on Thursday, followed three days later by GWD Minden in its KMAPA Arena.
Robert Andersson commented: "We didn't manage today to exploit THW's nervousness to our advantage. You need to turn in a top performance in every respect to win games like this and we didn't do that on the day."