Erlangen/ Nuremberg
Erlangen succumbs to Flensburg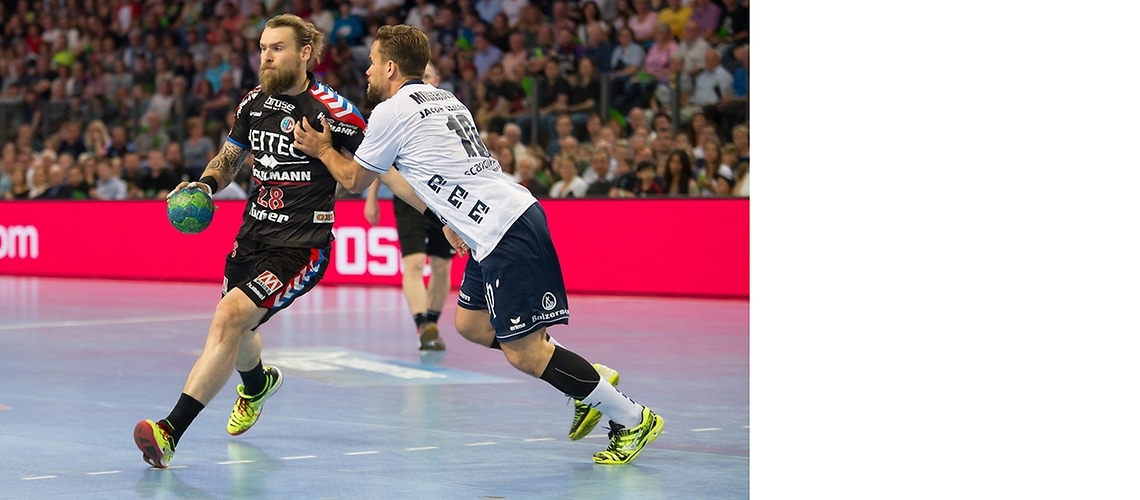 Erlangen/ Nuremberg, 05-21-2017
HC Erlangen lost to the world-class team SG Flensburg-Handewitt by 18:26 (10:12). The team of Head Coach Robert Andersson proved a match for the title candidates from the far north of Germany for a long time and so set alight the 7,234 spectators in the Nürnberger Versicherung Arena.
It was the handball festival that the persons in charge at the Franconian first division club had precisely envisioned. With hours to go before the throw-off in the game between HC Erlangen and SG Flensburg-Handewitt, masses of handball fans from Franconia flocked to Nuremberg's south-east for the first-ever Family Day. Erlangen had every reason to celebrate the evening before: Saturday's results meant that the club was certain of staying in German handball's top flight. And it was not only the team, led by its recuperated captain Michael Haaß, but also the crowd that showed that HC Erlangen deserves to be in first division. Every goal by the home side was greeted with thunderous euphoria, while the fans got right behind their team and fired it on after every negative experience. The HC was able to keep the hot favorites from Northern Germany within striking distance at all times, and the encounter was evenly poised midway through the first half. Building on a stable defense, the club from Central Franconia repeatedly irritated the former Champions League winners, who had difficulty in unfolding their much-feared high-paced play. Just two goals separated the opposing teams after 30 minutes.
After the break, the second-placed team in the DKB German Handball League noticeably stepped up its intensity. Mattias Andersson was in extremely good form between Flensburg's posts – he saved more and more shots from the home side and so helped the players in front of him break away. World-class players such as Lasse Svan or Anders Eggert did not need a second invitation to score. In the space of 15 minutes, the team of Head Coach Ljubomir Vranjes extended its lead from two to six points and slipped into the routine it needed to control the game. HC Erlangen gave its all in the final quarter of an hour, but ultimately succumbed to the class of Flensburg-Handewitt.
However, the defeat will not prey on the minds of Erlangen's players for long: They face their next home game in the boisterous ARENA on Wednesday against HBW Balingen-Weilstetten (throw-off: 7 p.m.).
Robert Andersson commented: "I'm happy with the way my team defended today. It was a tough day for us in offense, since we had to fight really hard for every single goal. A very good defense and an extremely good Mattias Andersson decided the game in Flensburg's favor."