Athen
Euroleague: Brose Bamberg slowly losing touch with the playoff places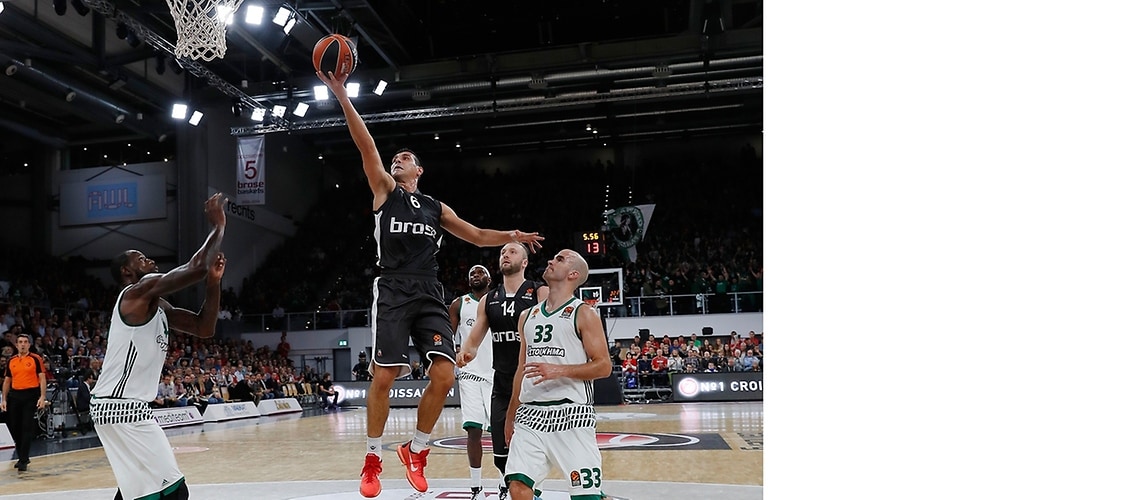 Athen, 02-09-2017
German champions Brose Bamberg have suffered a further setback in the Euroleague. The team of Head Coach Andrea Trinchieri kept in contention against Panathinaikos Athens for almost the whole game, but the Greek club managed to secure an 81:72 victory in the final two minutes. With eight wins and 14 defeats, Bamberg is now three wins off a playoff spot.
Bamberg came out of the dressing room with a lot of energy in Athens and overran the home side in the opening minutes. Two slam-dunks by Leon Radosevic (11 points) and a bucket from beyond the arc by Nikos Zisis put the visitors 11:3 ahead and forced Panathinaikos to call a timeout. The Greek side was a completely different after that and scored four threes by the end of the period. It was able to create a number of second chances and keep on adding to its tally by snapping up a large number of offensive rebounds, with the result that Bamberg trailed 19:27 after the first quarter. When Panathinaikos drained the next bucket from downtown to extend its lead to more than ten (19:30), the tables were turned again. The German champs now defended far more aggressively and scored a number of threes: Nikos Zisis (10 points) sparked a 16:2 run by making it 22:30 and Patrick Heckmann closed it with his second bucket from outside to put his side 35:32 ahead. Athens struck back and took a narrow 42:41 lead into the break.
Whereas buckets from downtown were the crucial factor on both sides in the first half, it was Panathinaikos' star center Ioannis Bourousis who stamped his mark on the game in the third period. For an eight-minute spell, Bamberg found no means to stop the 2.14-meter giant, who kept on testing the limits of the referees' new line with his extremely physical and robust play and was not punished with his fourth foul until late in the period. By then he had scored 11 of his 16 points and so made sure that Bamberg trailed by 54:62 going into the final quarter. Bamberg's top scorer Daniel Theis (18 points) put up stiff resistance to the impending defeat by scoring 15 points in the final minutes, but he had too little support from his teammates. Bamberg was no longer given any easy shots in the face of aggressive defending by Athens. Theis' three to make it 61:65 did not make any difference, since Athens scored on the next two attacks and Bamberg missed on its next two attempts, with the result that the gap grew again to 61:70. Panathinaikos played out the remaining time safely.
Andrea Trinchieri commented: "We have the better performance index rating and almost twice as many assists as Panathinaikos, yet still lost the game. We had a good game plan, but didn't make the big plays. And you need to do that to win in this arena. Singleton had big plays, in offense and defense. Sometimes you have to put a Superman or Spider-Man costume on your players. You need big plays. I can't accuse my team of not trying all they could. Everyone was fantastic. They played outstandingly against one of Europe's best point guards. As a coach, I have to keep on working on solutions. That means: We'll now work on big plays."
Bamberg now faces a game on the road against Fraport Skyliners Frankfurt in the easyCredit German Basketball League on Sunday, February 12, 2017 (tip-off: 6 p.m.).