Misano
First championship points in the opening Blancpain Sprint race in Misano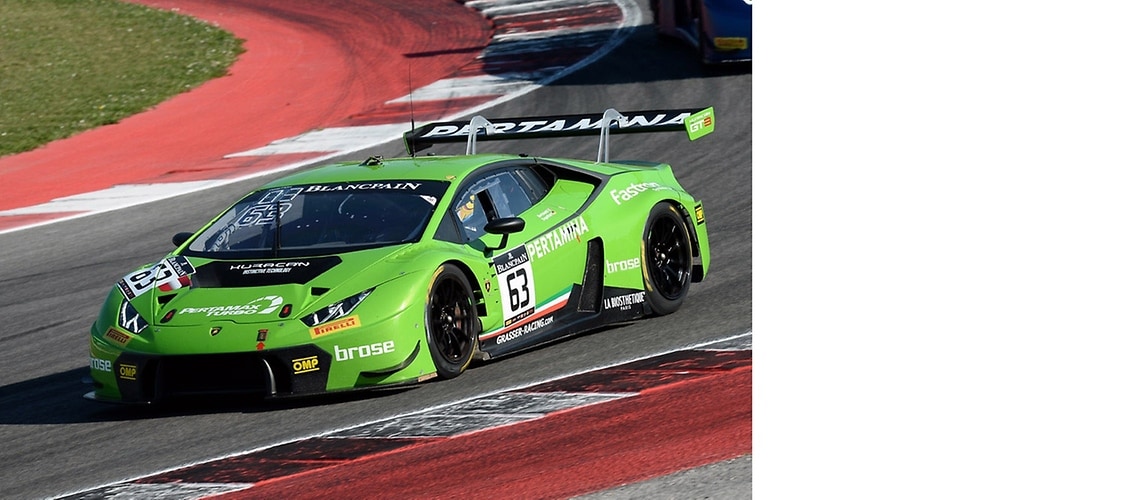 Misano, 04-03-2017
It was not the hoped-for place on the rostrum, but his first championship points: The opening weekend in the Blancpain GT Sprint Series in Misano, Italy, did not go quite as wished for Christian Engelhart, but the pilot from Bavaria gained confirmation, despite unfortunate incidents, that he is able to compete with the best.
The qualification race itself was extremely turbulent: Right at the start, there was a collision between several cars toward the rear of the field, with the result that the race was suspended. However, everything seemed to be going as desired for the Grasser Lamborghini #63 to begin with. Christian's teammate Mirko Bortolotti managed to move up from sixth on the grid to fourth and even improved to second after the restart. However, an early stop to change pilots at the start of the pit window did not reap the desired advantage this time: When the field had rearranged itself, Christian was in fourth, with a McLaren behind it. Nevertheless, finishing in fourth seemed feasible, until a car to be lapped intervened on the final lap and the two top cars were involved in an accident: "I think it's a pity that a lapped pilot interferes in a tussle for top spots. That's absolutely unnecessary and is damaging to the sport," said an annoyed Christian after the incident. Nevertheless, he managed to cross the line in the green Lamborghini Huracan GT3 as eighth.
Unfortunately, bad luck continued to dog the team in the Main Race. Christian Engelhart was in seventh when he was spun around from behind: A rival had miscalculated when trying to overtake a BMW directly behind Christian. He fell back to 13th, "then we had to launch a massive effort to catch up." The pilots managed to move up to ninth, "but a place in the top five would have been possible without the incident," is Christian's conviction. "It wasn't an easy weekend, but we picked up a few championship points thanks to very good teamwork. A win was out of reach this weekend, but we'll give our all again to achieve that goal in Monza."
Christian has another race before the opener in the Blancpain GT Endurance Series in Monza on Friday, April 22, and Saturday, April 23. He will line up for the 12-hour race in the A6 Pro category on the Red Bull Ring at Spielberg together with his ADAC GT Masters teammate Rolf Ineichen and the latter's brother Mark.