Hockenheim
Formula Student Germany: On the home stretch to future employment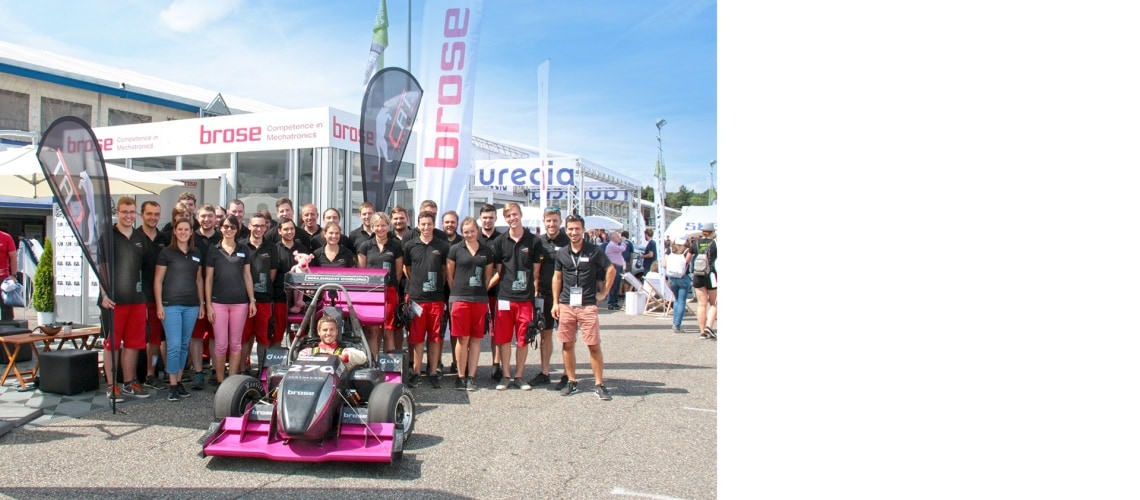 Hockenheim, 08-13-2017
To the front of the pack with the "Pink Panther"! At this year's Formula Student Germany (FSG), an international competition for race cars designed by students, the Brose sponsored team from Coburg took 18th place with its black and pink vehicle. This was the second time Brose used the event to recruit young talents for the company. "The Formula Student competition lets students put what they have learned about engineering into practice. This makes the participants sought-after candidates," explained Claudia Desselmann, HR Marketing Brose Group.
115 teams from over 20 countries took part in the event from 8-13 August at Hockenheimring. There were different disciplines in which the vehicles were measured, compared against each other and presented to industry professionals and financial experts. The team with the best overall package of design, racing performance, financial planning and USPs won. In addition to vehicles with internal combustion engines and electric drives, this year's competition featured a new category with autonomous race cars.
Coburg Automotive Team takes first in "Business Plan"
The C.A.T. Formula Student Team from the Coburg University of Applied Sciences, which Brose has supported as a main sponsor since the beginning of the season, took first place in the discipline "Business Plan". The Coburg team came in 18th in the overall standings in the "Internal Combustion Engine" category. The challenging weather conditions caused problems in the vehicle electrical system and also affected steering and drive systems. You can see all of the results here.
FSG Academy – sponsor-hosted workshops
The automotive supplier held two workshops at the FSG-Academy. Claudia Desselmann offered tips for successful presentation, while Christian Engelhart – a racing driver sponsored by Brose – provided fascinating insights into the motorsport world. He was able to quickly combine the experience he gained from studying automotive engineering with his passion for racing.
Driving safety training with racing driver Christian Engelhart
20 students who visited the Brose stand won a chance to take part in a special event at the ADAC Driving Safety Center: They got to ride along with Christian Engelhart, who performed spectacular driving maneuvers in a Porsche Cayman S. Then they tested their own driving skills as part of a safety course.
Off the track, the students asked the racing driver in-depth questions and talked to the Brose HR team to find out more about internships, work placement programs, degree thesis topics and direct entry opportunities at Brose.