Bayreuth
Heroes Of Tomorrow defeat ROSA Radom 90:85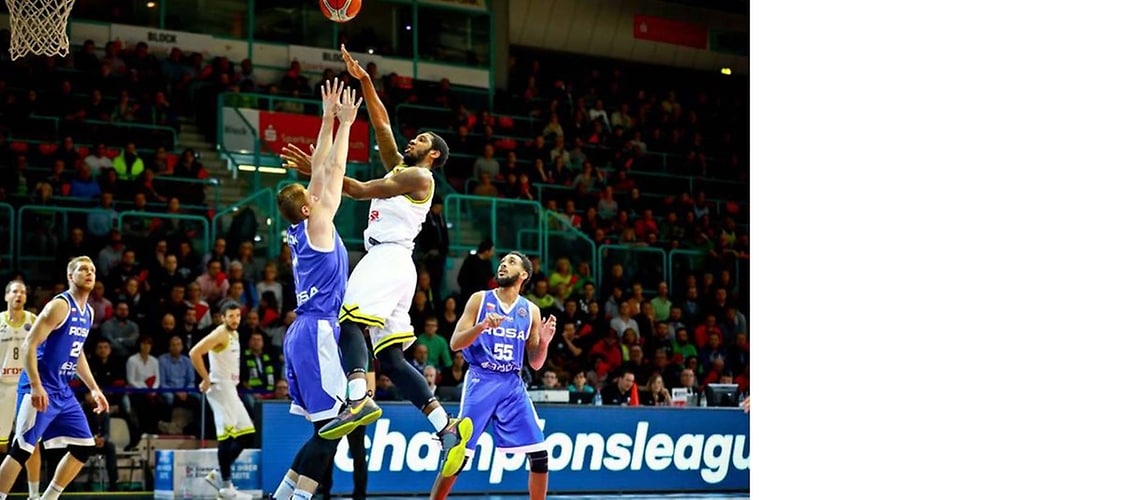 Bayreuth, 12-13-2017
Unlike the earlier encounter between the two, an open game ensued in the first half of the first period. After almost five-and-a-half minutes, with the score at 11:11, the Heroes Of Tomorrow conceded their fifth team foul. medi bayreuth then improved with Assem Marei's comeback. De'Mon Brooks put his side 19:14 ahead in the 8th minute with a three-point play, a lead the team maintained until the end of the period.
The visitors from Poland got off to an ideal start in the second quarter with a four-point play by Kevin Punter and a 6:0 run. After Raoul Korner called a quick timeout, the encounter's quality declined a little, since both sides were not able to maintain their initially high shooting percentages. ROSA Radom retook the lead midway through the period. Yet medi kept in the game, mainly thanks to a number of buckets from beyond the arc. Gabe York then turned the game around with seven points in a row (39:32). Yet the Polish club caught up again after a timeout. Quick threes by Ryan Harrow and Michal Sokolowski helped the visitors close the deficit again, before Ryan Harrow even managed to put them 48:46 in front three seconds before the break.
The Heroes Of Tomorrow were much improved at the start of the second half. An 11:4 run in the first four minutes made it 57:52. When Assem Marei then came back on court, the Egyptian produced many important plays under both baskets. After that, medi bayreuth failed to stretch its lead due to simple mistakes. It was not until the 28th minute that John Cox gave his side the first double-digit lead of the encounter with a bucket from outside (68:57).
medi went into the final period with a secure 76:63 cushion and was able to extend it further. Two free throws by Robin Amaize put his side ahead by the clear margin of 86:69. However, the team again committed simple mistakes, which the visitors capitalized on clinically. However, Bayreuth was able to hold on to its lead, despite the fact that Radom dominated the game in the final minutes by the clear margin of 16:4.