Tübingen
Heroes Of Tomorrow start the new season with an away win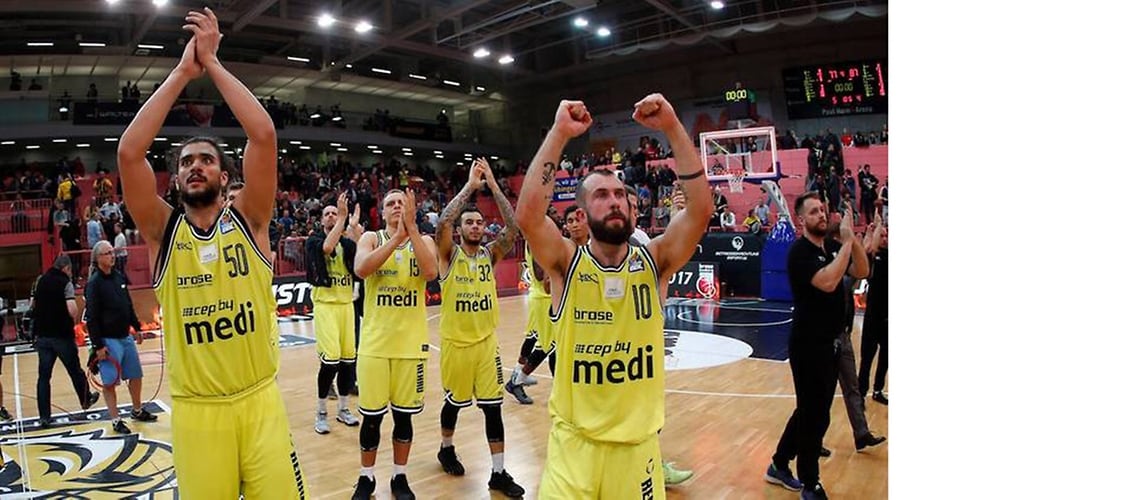 Tübingen, 09-30-2017
medi bayreuth has started its new campaign in the easyCredit Basketball German League with an away win that was ultimately never in jeopardy. In the first game of the season, the team of Head Coach Raoul Korner won 87:77 away at WALTER Tigers Tübingen on Saturday evening.
The Heroes Of Tomorrow were full of motivation and highly focused at the start of the encounter in front of around 2,850 spectators in the Paul Horn Arena. In particular Assem Marei made his mark in the opening period. The Egyptian had amassed a haul of ten points by the time the first quarter ended with the score at 20:10.
Bayreuth also got off to a strong start in the second period and was soon able to pull away to 28:12 and then 33:16. Raoul Korner's team also controlled the game after that. Robin Amaize first increased the gap from the foul line, after which Gabe York brought an impressive first half to a close with his bucket from outside (49:30).
The Heroes Of Tomorrow remained the dominant team after the break. A run of 7 points without reply made it 65:39 for medi bayreuth. However, the home side scored three buckets from outside in the final minute and so was able to cut the deficit to 48:66.
Jared Jordan and Ryan Brooks added threes to get WALTER Tigers back in touch in the 33rd minute. After a timeout by Bayreuth, Gabe York extended the lead for the Heroes Of Tomorrow with his fourth three-pointer. However, the home side's Barry Stewart now turned on the heat. The American drained two threes and Jared Jordan also scored to make it 66:79. Even though Tübingen closed the gap to 75:83 with another three by Reggie Upshaw with 62 seconds to go, the encounter was already decided and the Heroes Of Tomorrow played out the game securely.
Raoul Korner commented: "You never know where you stand before the first game. We wanted to play with focus here from the outset. We also succeeded in that. We dominated the encounter for the first 26 minutes. We wanted to exploit our advantages below the basket and managed to do that. As a result, we were able to gain confidence and get into a good rhythm. But Tübingen never gave up and also capitalized on our mistakes, with the result that it was tighter in the end than it looked for a long time. We're happy at the win."