Bayreuth
Heroes Of Tomorrow win their fifth game of the season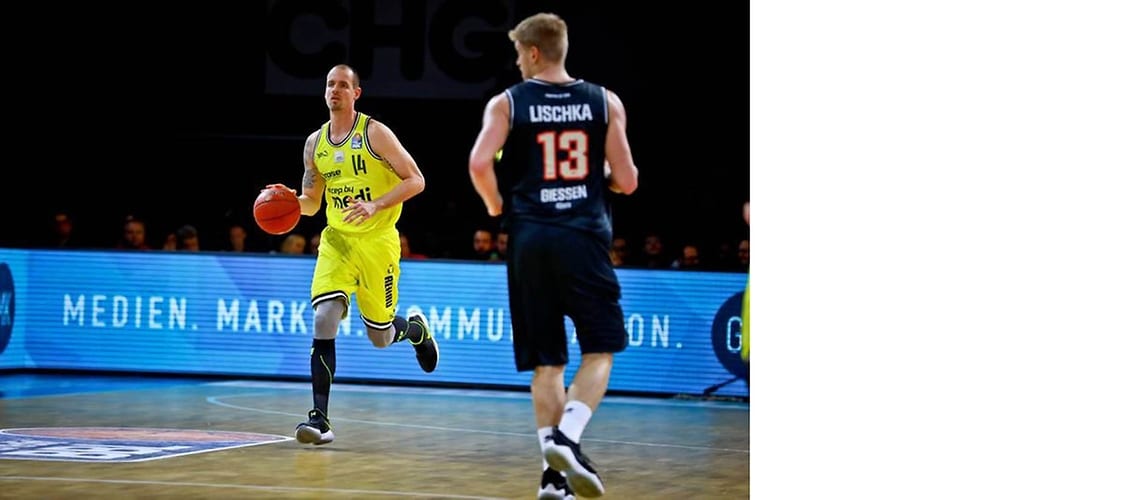 Bayreuth, 10-29-2017
medi bayreuth was able to celebrate its fifth win of the season on the 7th matchday in the easyCredit German Basketball League. The team of Head Coach Raoul Korner defeated GIESSEN 46ers by 96:75 to remain in the top third of the table.
As expected, the 46ers began the encounter at a high pace. The Heroes Of Tomorrow initially managed to match them in offense and were 9:7 in front after four minutes. However, Bayreuth then missed two shots from beyond the arc, which Gießen exploited to move ahead. After Raoul Korner called a timeout with his side trailing 13:18, however, medi bayreuth snatched the lead back with a run of seven points without reply. Max Landis equalized for the club from Hesse to make it 20:20 at the end of the period.
Gießen got off to the far better start in the second quarter, in which medi squandered many simple chances. The second timeout by Raoul Korner in the first half did not produce any improvement this time. Gießen went ten points in front thanks to a bucket from downtown by Austin Hollins in the 17th minute. Yet the Heroes Of Tomorrow struck back in the same minute: Assem Marei and Gabe York with a three cut the deficit to 34:39 in the space of 16 seconds. However, the visitors replied immediately with two quick buckets from outside by Darwin David and Jamar Abrams to take a 44:50 lead in with them at half-time.
After the break, the crowd of 3,199 in the Oberfrankenhalle then saw a Bayreuth that was far stronger, especially in defense. After Assem Marei tied the encounter at 53:53 from the foul line, it was Nate Linhart who put the Heroes Of Tomorrow ahead with seven straight points. medi bayreuth led by 69:64 at the end of the third period.
The Heroes Of Tomorrow also got off to a good start in the final quarter. Andreas Seiferth in particular was strong in offense and, with his five points in a row, helped put his team ahead by double digits for the first time. Gießen's strength now began to wane and its shooting percentage also deteriorated sharply, whereas medi stepped up a gear to stretch its lead even further. As a result, medi bayreuth ultimately ran out commanding winners by a margin of more than 20 points.