Kenitra/Morocco
Krawietz wins in Morocco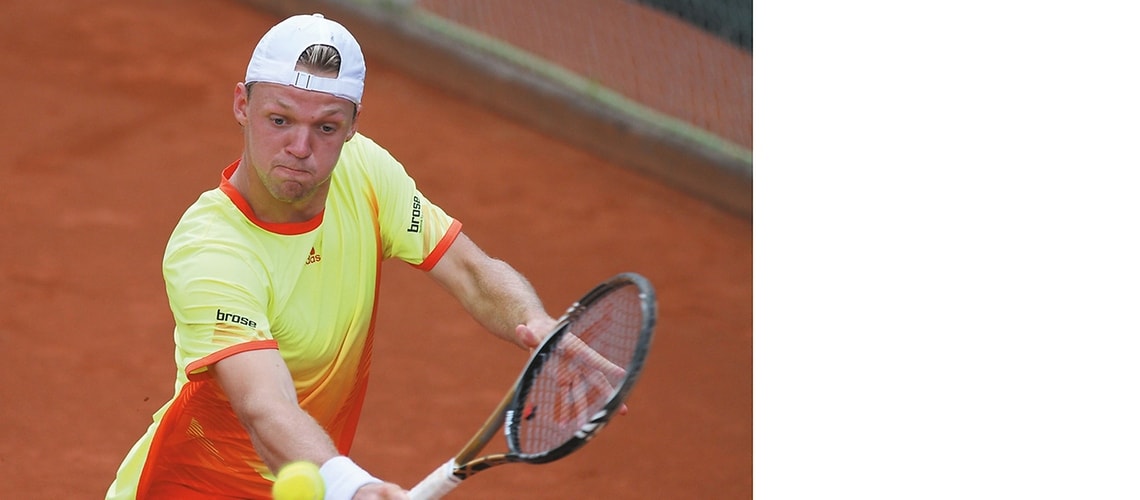 Kenitra/Morocco, 09-24-2016
Tennis professional Kevin Krawietz from Ahorn-Witzmannsberg has won yet another tournament in the doubles on the Challenger Tour of the Association of Tennis Professionals (ATP). He and his partner Maximilian Marterer came out top in the world ranking tennis tournament in Kenitra (Morocco), where the prize money was €42,500. In the singles, the 24-year-old Krawietz captured a place in the main field after qualifying, but lost to the Belgian Arthur de Greef (Belgium), ranked number 138 in the world. However, he moved up seven spots in the singles rankings to 380th.
De Greef exacts revenge
Krawietz came up against the Belgian Sander Gille in the final of the qualification round. He got off to a poor start and lost the first set by 1:6. Then Krawietz got into the game better and did not give the Belgian a chance to take the next sets 6:3 and 6:4. In the main field, he was drawn against the number three seed Arthur de Greef. De Greef was seeking revenge after suffering a narrow defeat at the hands of Krawietz in the Challenger tournament in Heilbronn in the summer. This time Krawietz lost 1:3, 1:6. Krawietz commented afterwards: "The result may seem clear-cut, but I had my chances in the match. Unfortunately, I wasn't able to use any of my six break points."
In the doubles, he and his 21-year-old partner Maximilian Marterer did not have any problems in the first round, defeating the Moroccans Nizar Belmati/Mehdi Jdi by 6:1, 6:0. In the next round they faced the number four seeds Portero/Batalla. Almost immaculate play and very good serving ensured a 6:0, 6:3 win against the Spanish pair.
Their opponents in the semi-final were once again two Spaniards, Pol Taledo Bague and Mario Vilella Martinez. The first set was fiercely contested and went to a tie-break, which the two Germans won by 14:12. They then gained the upper hand in the second set and took it by 6:3.
80 points in the rankings
In the final, they came up against Uladzimir Ignatik from Belarus and Michael Linzer from Austria, who had previously earned a reputation for themselves by beating the Belgian number one seeds Gille/Vliegen. A tense match ensured, with the German duo taking the first set on a tie-break. In the second set, they broke serve, but then lost the thread and went down by 4:6. In the match tie-break, the German team served well, played aggressively at the net and won by 10:6.
That meant they were able to capture another Challenger title and add 80 points to each of their tallies. Marterer is now ranked 483rd in the world in the doubles, while Krawietz improved by 49 places to 192nd.