München
medi bayreuth loses 86:100 to strong FC Bayern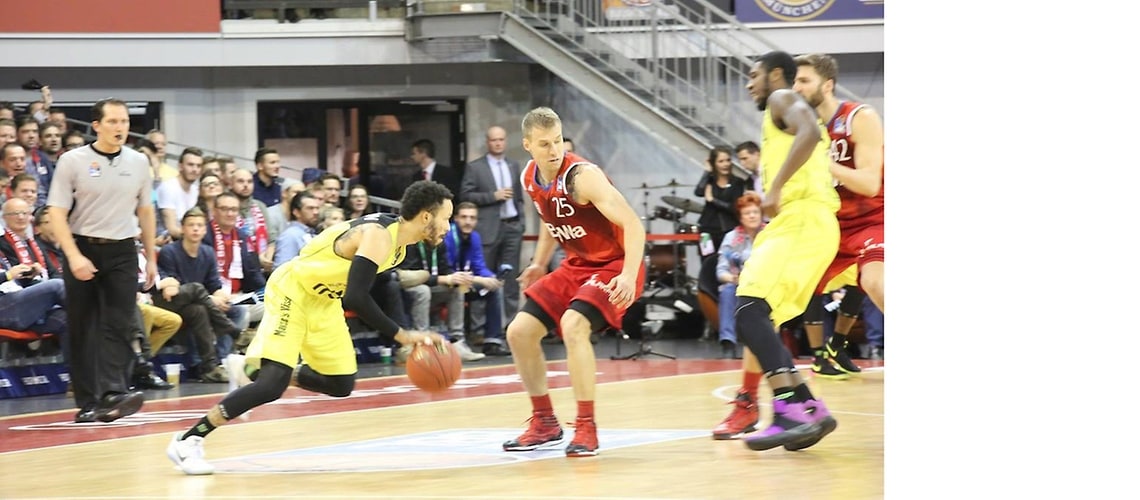 München, 12-03-2016
Many had hoped for a shock result in the top game of the 12th matchday of the easyCredit German Basketball League, but that was not to be. After a phenomenal series of ten straight wins from their last games, medi bayreuth suffered an 86:100 defeat at FC Bayern Munich and so its second loss of the season on Saturday evening.
In front of 6,087 spectators in the well-filled Audi Dome, the team of Head Coach Raoul Korner began strongly and was level with Bayern at the start of the second period. However, the home side, who approached the game with great focus, obviously so as to avoid being caught unawares by the league's surprise team, got into its stride more and more thanks to high intensity and physical play, as well as the extremely diverse class of its individual players. Munich kept on stretching its lead, opening up a gap of 24 points by midway through the third period. Nevertheless, the Heroes Of Tomorrow continued to fight resolutely and, spurred on by a great display by Robin Amaize, even clawed their way back into close contention with three minutes remaining. However, they were no longer able to threaten Bayern, who ran out totally deserved winners.
Brief summary of the encounter
After a lightning start by the home side – 6:0 after 72 seconds –, the Heroes Of Tomorrow struck back in remarkable fashion. Andreas Seiferth managed to tie the scores at 6:6 in the third minute and a bucket from beyond the arc by Trey Lewis put medi bayreuth ahead for the first time (9:8 in the 4th minute). Anton Gavel then drained a three plus a bonus free throw to make it 14:9 for Munich, who now opened up a small gap and was able to hold on to it by the end of the quarter (23:17).
The first minutes of the second quarter belonged to medi bayreuth: Robin Amaize cut the gap to 26:28 with two buckets. The youngster was also fouled while making his second and buried the free throw (27:28 in the 13th minute). However, Bayern struck back clinically with a 3-point play by Lucic and a slam-dunk by Kleber (33:27 in the 14th minute). Munich then pulled away, capitalized on turnovers against Bayreuth to add easy points, and then went 42:30 in front in the 17th minute after an alley-oop by Vladimir Lucic. The home side extended its margin to 16 by the break.
Bayern opened the third period with a bucket from downtown – probably its strongest weapon on the evening. Bryce Taylor scored, then Maximilian Kleber added three buckets to make it 68:45 in the 25nd minute. Yet the Heroes Of Tomorrow did not give up. Solid threes by Steve Wachalski and an almost unstoppable Robin Amaize ensured that medi did not slip far behind. The period was ultimately won by Bayern by just two points.
In particular, Robin Amaize pushed his team forwards again in the final quarter. Two free throws in the 33rd minute made it 66:85 and were followed by a three from Kyan Anderson. And medi kept in touch! Bayreuth's number 15 added two further buckets and a three to make it just 78:91 in the 37th minute and force Munich to call a timeout. Head Coach Aleksandar Djordjevic then instructed his team what to do and so Bayern played out the game comfortably to bring Bayreuth's impressive run of ten straight wins to an end.