Oldenburg
medi bayreuth loses on the road at EWE Baskets Oldenburg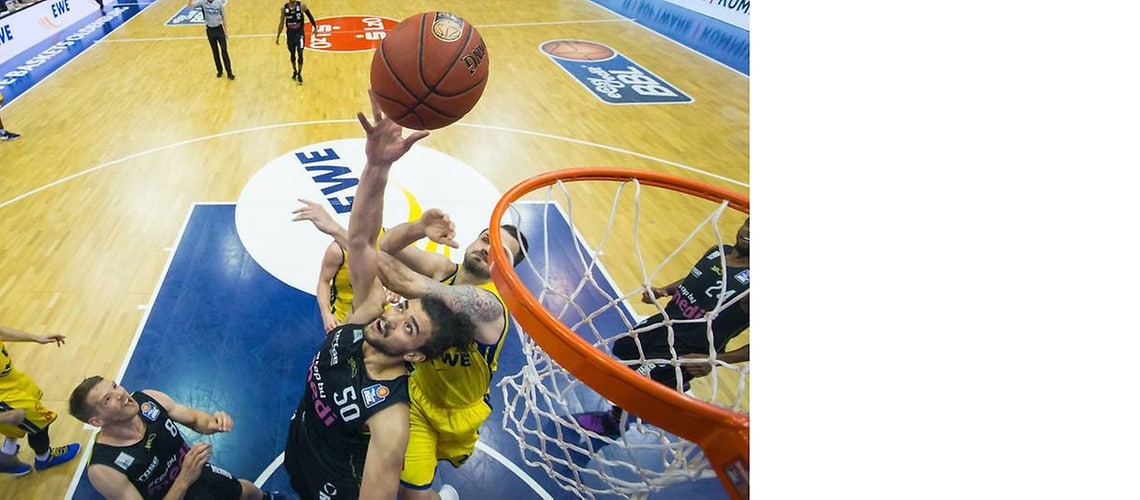 Oldenburg, 04-15-2017
medi bayreuth was not able to gain a further edge over its rivals from Bonn and Berlin in the battle for fourth spot in the table on the 31st matchday of the easyCredit German Basketball League. The Heroes Of Tomorrow lost their game at EWE Baskets Oldenburg by 64:83 in the sold-out EWE Arena.
Brief summary of the encounter:
As on Thursday against Frankfurt, Bayreuth started the game with a bucket from outside by Trey Lewis – and once again it was to be the only occasion that it led for the time being. Oldenburg responded quickly and surged 15:6 in front in the 5th minute, also thanks to threes by Schwethelm. However, medi struck back in kind with a run of 10 points without reply, which Andreas Seiferth brought to a close (16:15 in the 10th minute). A 3-point play by Brian Qvale gave his side the lead back.
The Heroes Of Tomorrow got off to the better start in the second period and, after a bucket from beyond the arc by Amaize and free throws from Anderson, went ahead again (23:21 in the 12th minute). The "Thunderbirds" then produced a 6:0 run to make it 27:23 and regain the momentum. However, medi kept within striking distance and was able to equalize twice from the foul line (30:30 in the 18th minute through Lewis and 32:32 in the 20th through Marei). Vaughn Duggins gave the home side a narrow lead at the break, draining his shot one second before the buzzer to make it 34:32.
The Heroes Of Tomorrow conceded an unusually high number of turnovers in the first half, but were repeatedly able to recover when trailing – but that was not to be in the second. Although De'Mon Brooks tied the scores early on, it was then Oldenburg that dominated for the time being, above all thanks to Rickey Paulding, who celebrated his tenth year with the club. He made the first six points in a 12:0 run to help his side move 46:34 ahead in the 25th minute. Two threes by Steve Wachalski were the highlight for Bayreuth in a period that EWE Baskets took by the clear margin of 26:13.
Bayreuth's strength dwindled and it was less focused in finishing in the final quarter. As a result, Oldenburg had an easy time in the last ten minutes and was not only able to maintain the lead, but even extend it. The gap grew to 22 points at one stage and the club from Lower Saxony eventually ran out clear winners by 83:64.
Raoul Korner, Head Coach of medi bayreuth, commented: "We did a very good job keeping the game close up to half-time. We did our work in defense. In the third period, we slipped into a mode that has happened to us often in recent times: We stopped playing team basketball. We don't move the ball. The moment we stop playing as a team, we're nothing more than average. That's not the reason we're in fourth place. We're in fourth because of our strong teamwork. We have to regain that."