Bandirma
medi bayreuth loses on the road to Banvit BK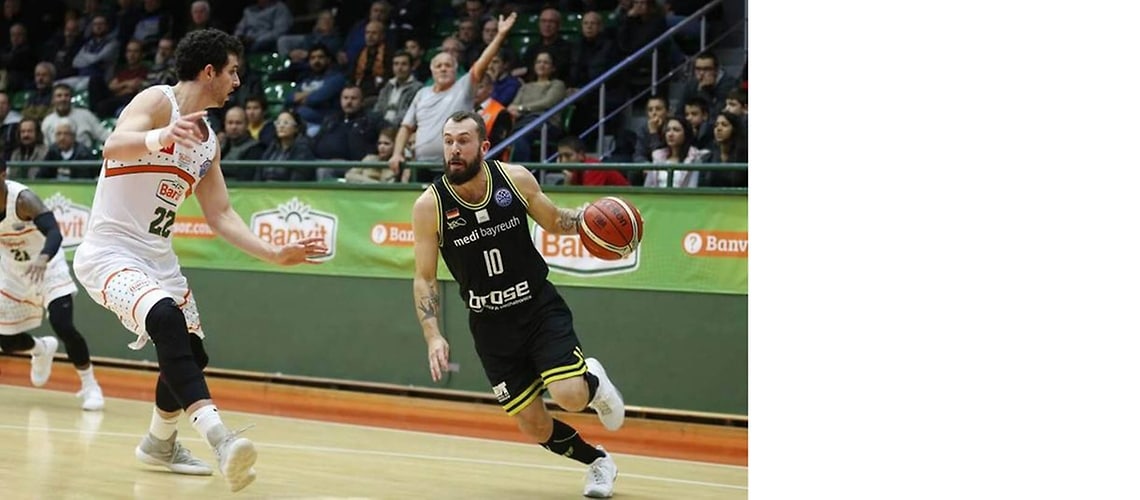 Bandirma, 11-01-2017
medi bayreuth has suffered its first defeat in the Basketball Champions League. On the 4th matchday, the team of captain Bastian Doreth lost by 74:85 against Banvit in Bandirma, Turkey, on Wednesday evening.
Like in Ljubljana, the Heroes Of Tomorrow began with Andreas Seiferth under the basket and got off to a strong start. medi was highly focused in both offense and defense and went 7:1 in front thanks to two steals by James Robinson. It even managed to stretch the lead to double digits for the first time before Banvit called its first timeout. After it, the home side got into the game better and was able to catch up. However, medi put up excellent resistance and De'Mon Brooks kept Banvit's defenders busy.
medi bayreuth took a 22:18 lead into the second period, in which Gaspar Vidmar was now also prominent in addition to De'Mon Brooks. After an unsporting foul against Bandirma's new signing Andy Rautins, James Robinson was able to extend the lead to ten points again. The game's pace remained high and although the home side dominated the boards in the first half, medi kept ahead, mainly thanks to its good field goal percentage. However, things became tight in the final spell of the first half. That was mainly due to Adonis Thomas, who put Banvit ahead by 38:36 with an and one shortly before the break. However, James Robinson hit back right away to tie the scores at half-time.
Two controversial offensive fouls awarded against Andreas Seiferth meant that medi ran a slight risk of players fouling out midway through the third period. However, things initially went well for the Heroes Of Tomorrow, with De'Mon Brooks and Gabe York driving them on in offense. The two Americans had a big hand in helping their side move 54:48 in front. Adonis Thomas, who drained a shot on the buzzer to make it 57:56, and Damian Kulig made their mark in this phase for the home side.
The two teams did not give each other an inch at the start of the final period, either. Both were virtually neck and neck with six minutes to go. Whereas Damian Kulig now become the key figure under the baskets for the Turkish club and last year's finalist chalked up a high shooting percentage from just about every position, Bayreuth's declined gradually. Moreover, Banvit built up more pressure and its lead grew to a decisive 85:72 thanks to an 11:2 run.