Bamberg
medi defeats SIG Strasbourg in the Brose Arena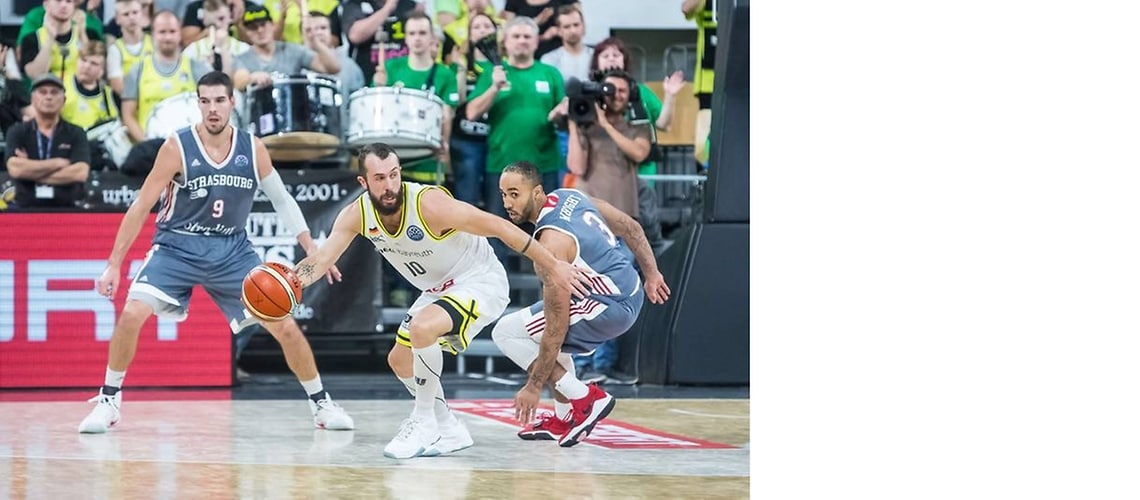 Bamberg, 10-18-2017
The visitors initially went ahead in an encounter that was evenly poised at all times. However, the Heroes Of Tomorrow then took command. Assem Marei drained his shot after an impressive pass by Nate Linhart to put them 10:7 in front. Whereas medi notched up a high shooting percentage from its inside game, while Strasbourg kept itself in the game with buckets from downtown. Last season's runners-up in France also managed to convert several turnovers into quick points.
Both teams traded buckets in the second period. In the 19th minute, the Heroes Of Tomorrow succeeded in draining their first three – through Gabe York – to the jubilation of the crowd (34:31). Whereas French international Louis Labeyrie in particular was in impressive form for Strasbourg, medi had Gabe York, who bagged 16 points by the break. The man quietly pulling the strings for the Heroes Of Tomorrow on the evening was again Nate Linhart, who made five assists in the first half, which ended 36:33.
Bayreuth got off to the better start in the second half and was able to stretch its lead to 44:37 in the 24th minute after a bucket from outside by Robinson. However, the French club struck back with a 15:4 run to snatch the lead. Andreas Seiferth kept his team in the game in this extremely critical situation.
The visitors seized control of the game again at the start of the final period and were able to extend their lead. Louis Labeyrie made it 61:67 with just under four minutes to go and the momentum seemed to have swung toward his side – but only until the next attack, which Steve Wachalski finished with another three. With 51 seconds left on the clock, Gabe York put medi bayreuth 72:69 in front with a bucket from beyond the arc. Yet Labeyrie and Dixon were able to tie the scores a little later to force overtime.
Gabe York and James Robinson put the Heroes Of Tomorrow four points ahead with two steals they converted into fast attacks. After Assem Marei's fourth foul, Andreas Seiferth came back on, scored off an offensive rebound in the 43rd minute despite being fouled and also drained the bonus free throw to make it 81:75. Yet the visitors hit back and reduced the gap again. In the end, the Heroes Of Tomorrow deservedly won their second game in the Basketball Champions League by 82:80.