Bayreuth
Nail-biting finish in Bayreuth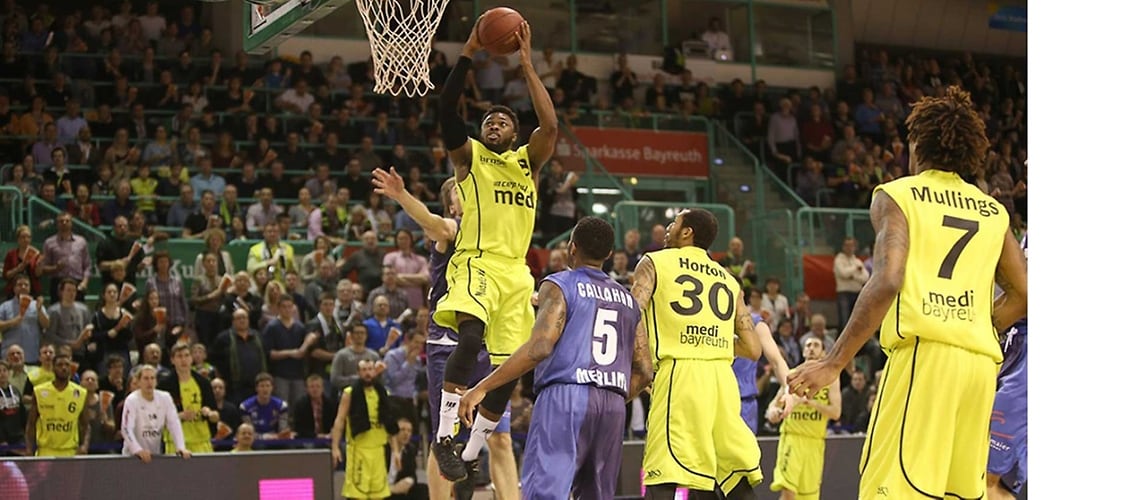 Bayreuth, 03-06-2016
It was like in the game between the two earlier in the season: shortly before the end, GIESSEN 46ers went two points ahead and so medi bayreuth had the last attack of the game. Once again it was a shot on the buzzer for a three, but this time the attempt by Steve Wachalski only hit the hoop and the visitors from Hesse came out on top by 74:72. 3,064 spectators – all the seats in the Oberfrankenhalle were sold out – saw a furious start by the 46ers and a game that, although scrappy, grew in tension. Trailing by eleven at one stage, the team of Head Coach Michael Koch was able to equalize and even take the lead shortly before the end. However, Gießen's Cameron Wells struck back promptly and, with nine seconds left on the clock, drained a bucket from beyond the arc to give his side the lead back and ultimately secure victory.
Michael Koch commented: "Congratulations to Denis and Gießen on the win. The way my team approached and read the game in offense wasn't satisfactory and what I envisaged. We lacked intensity at the start. That improved as the game went on and at the end we again won important balls through our fight and passion. But as happens in basketball, we had several fouls to spare on Gießen's last attack, the ball makes its way across court somehow and we have thousands of chances to gain possession. Then Gießen gets holds of the ball and makes a key three-pointer. It's one of those situations in sport that you have to cope with as a team and that we should have coped with. We still had enough fouls to stop the open, lucky bucket from outside. What I'm not happy about is the way my team played from outside today. We didn't exert any pressure from the three-point line. We had so many open shots where we passed the ball instead and no one plucked up the responsibility to shoot. That's something that hurt us more and more as the game went on. The crux of the matter is that we were simply too passive in offense today."
The next game for medi bayreuth is on the road at seventh-placed ratiopharm ulm. The game on the 26th matchday tips off at 6:30 p.m. on Saturday, March 12.