Bamberg
Brose Bamberg outclasses Red Star Belgrade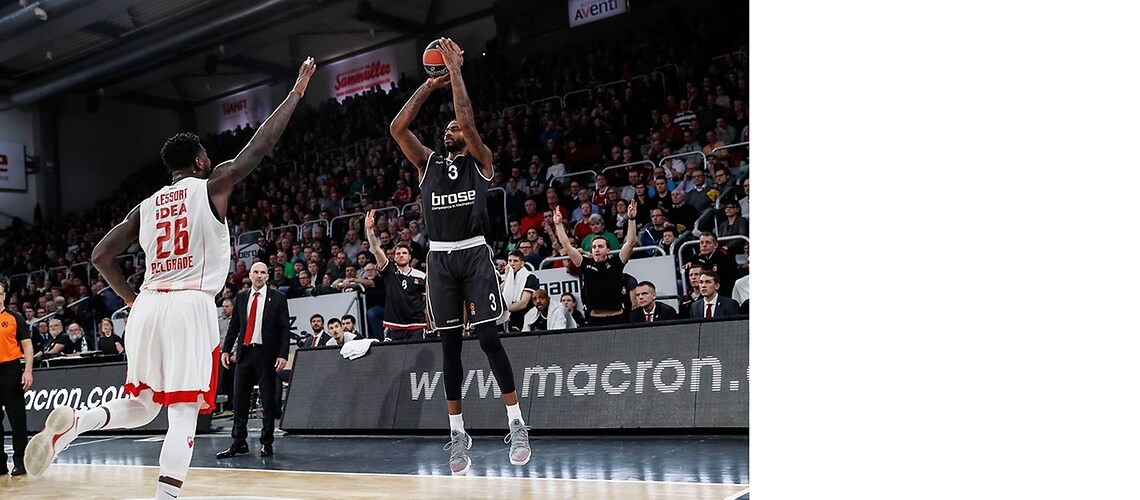 Bamberg, 02-23-2018
German champions Brose Bamberg produced an impressive display in their first game after the dismissal of Andrea Trinchieri. The team of the new Head Coach Ilias Kantzouris defeated Red Star Belgrade by 86:62 – its highest winning margin this season in Europe's top club competition.
After an eventful, emotional and tough week of training, Bamberg needed a few minutes to get into the game. After conceding a number of turnovers early on, Bamberg trailed 0:7 after two minutes, before Dorell Wright put his side out of its agony with a bucket from beyond the arc. However, further threes from Ricky Hickman and Nikos Zisis and a tip-in by Leon Radosevic meant the home side was able to equalize in the space of four minutes. The lead changed hands a number of times up to the end of the first period, after which Bamberg was 21:23 behind. Kantzouris' team then showed itself at its strongest in the second quarter. Bamberg was now more resolute below the basket and so snapped up far more rebounds, while a tight defense marshaled by the tenacious Daniel Hackett caused great problems for the Serbian club. Moreover, Bamberg did not concede any more easy points. And the home side took better care of the ball in offense, losing possession only once more up to the break compared with five times in the first period. In addition, the team of captain Nikos Zisis finally played selflessly for each other in offense – as evidenced by a total of ten direct assists. Bamberg also chalked up a record three-point field goal percentage of 70 and so opened up a 46:36 gap by half-time.
Things went even better for Kantzouris' team after the break. Tight defending by the home side meant Belgrade was kept away from the basket even more effectively and scored a meager nine points in the third period, whereas Bamberg pulled away play by play. Augustine Rubit and Dejan Musli made their mark, especially below the basket, and played a key part in a 12:2 run that gave their side a 20-point lead and as good as sealed victory. Shortly before the end of the third period, Dorell Wright crowned his extremely strong performance with another bucket from downtown despite being fouled and so scored four points in one play thanks to the bonus free throw. The American player's haul of 21 points, 9 rebounds and 4 assists resulted in his being named MVP for this round of the Euroleague. Bamberg also kept Belgrade under control in the final period. The Serbian club was not able to catch up and Bamberg always had an answer up its sleeve. The home side even notched up a record with 39 seconds remaining, when Lucca Staiger drained his fourth three and Bamberg's 14th in the whole game – the most it has ever scored in a Euroleague encounter.
Ilias Kantzouris commented: "We got off to a poor start, but then we did the things we needed to – things that seem simple, but are often big obstacles in our current situation. So it was all the more important for us to operate as a single unit and stand solid in defense. We managed to keep the other side to below 62 points – that was a true team performance. On the other hand, 20 assists prove that we moved the ball well. But the result was just one win, nothing more. We have to stand together moving ahead, step up our work and keep on improving."