Coburg
Dramatic victory for BBC Coburg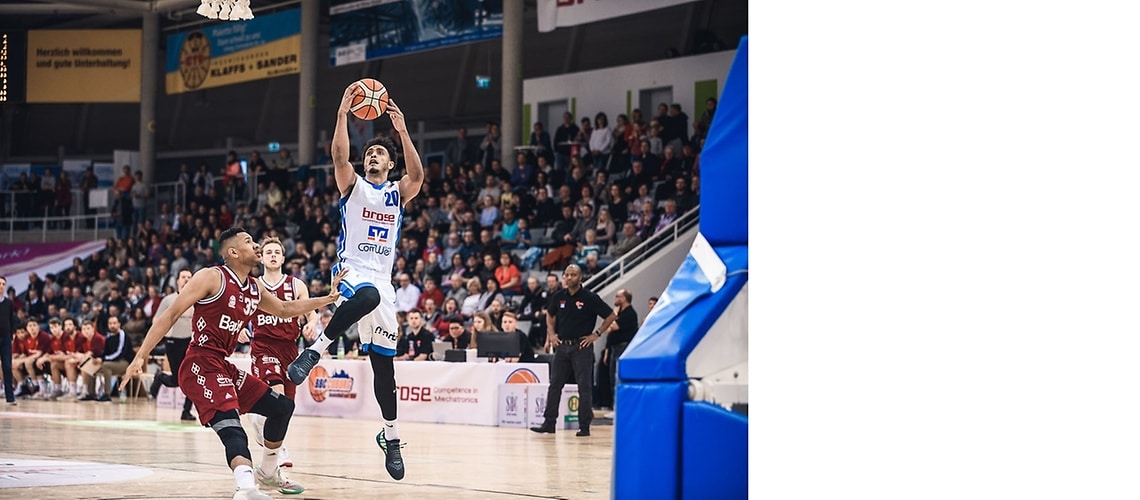 Coburg, 03-29-2018
A furious finish gave BBC Coburg its first victory at its fourth attempt against FC Bayern Basketball II and so renewed hope in the battle to avoid relegation from the ProB league. After trailing by 17 points at one stage, the BBC conceded a mere three points against Bayern's reserve team in the final period to run out winners by 66:61.
After the bitter 95:74 debacle in Munich last Saturday, it was clear from the outset that the league newcomers from Upper Franconia wanted to make amends. Although their shots did not really want to drop, BBC Coburg's tall players led by center Max von der Wippel worked hard and uncompromisingly under the opposing side's board in the opening spell and were repeatedly able to snap up second-chance opportunities. Yet Bayern, who arrived just 45 minutes before the tip-off in Coburg as a result of tailbacks on its journey, were not to be shaken off and an evenly poised first period ended with the BBC ahead by the narrow margin of 13:12.
The second quarter began in a similarly tight and fiercely contested vein, but the visitors from Munich, with their customary aggressive defending, gained the upper hand. The FCB's young talents created enormous pressure, especially in the guard positions, and repeatedly forced the home side's players, who were often too hesitant in making decisions, into conceding turnovers. Apart from birthday boy Jordan Burris, who almost single-handedly kept his side in fairly close contention in the first half, no other Coburg player got into his rhythm in attack. The upshot: The team of Head Coach Derrick Taylor trailed by the clear margin of 25:37 at half-time.
Things got worse rather than better to begin with after the break and the 1,239 spectators in the HUK-Coburg arena fell almost completely silent when Bayern extended its lead to a comfortable 17 points from the foul line through its highly regarded wing Karim Jallow, who was observed by an NBA scout from the US TV station ESPN who had specially come all the way to Coburg. It seemed that BBC Coburg was doomed again and would not be able to avoid its fourth defeat against the reserve side of the leaders in the easyCredit German Basketball League, especially since the BBC's tall players von der Wippel and Daniel Stawowski were now less and less able to control the much smaller, but agile Austrian player in Munich's ranks, Marvin Ogunsipe, in the paint.
But then someone who had not made any mark whatsoever up to then got into his stride. Byron Sanford, the talented, but not very consistent combo guard from Kentucky, suddenly remembered his qualities and got the home side, which now relied more strongly on a small ball formation with Christopher Wolf in the center position, back into contention with a number of plucky drives to the basket.
In the final period, the large crowd first rubbed its eyes in disbelief and then came to life again vociferously. Bayern's youngsters, who had played a total of 150 minutes in a surprisingly cool and collected manner considering their average age, now displayed a hint of nervousness for the very first time – and Coburg now seized the momentum with both hands and did not relinquish it. "Birthday boy Burris," who made 16 points, ten rebounds and eight assists and so only narrowly missed out on a triple-double, now resorted to passing the ball around more and was finally supported in scoring by Sanford, Wolf and captain Steffen Walde. And scoring was something the visitors now seemed incapable of: The team of Head Coach Oliver Kostic managed a meager three points in the whole of the final period.