Würzburg
Brose Bamberg wins on the road at local rivals Würzburg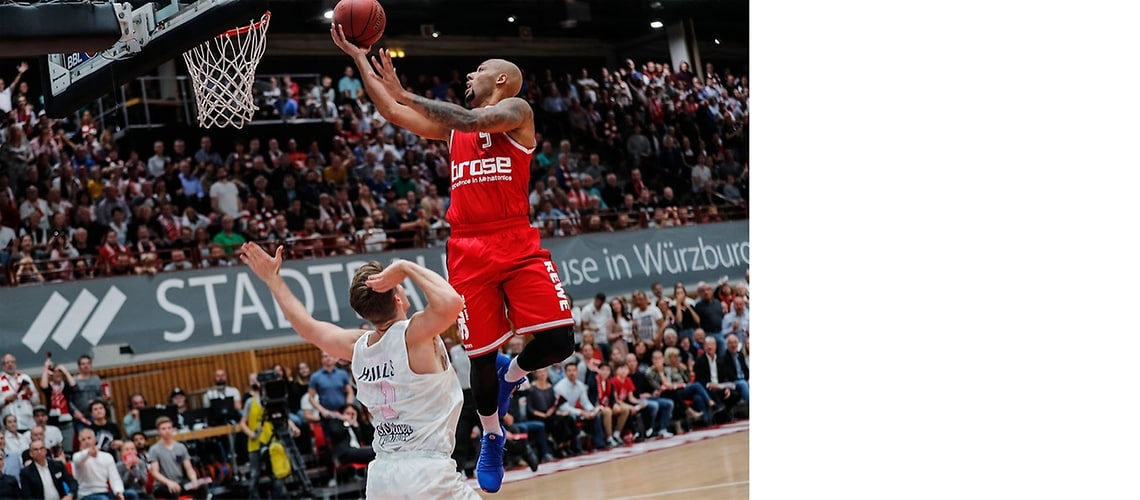 Würzburg, 09-29-2018
Brose Bamberg has started the 2018/2019 campaign with a hard-fought victory. The new team of Head Coach Ainars Bagatskis defeated local rivals s.Oliver Würzburg, a club with a strong home record, by 84:80. Trailing by 13:23 early on, Bamberg produced a comeback to go 39:37 ahead by the break, but then almost let a 82:74 lead slip shortly before the end, as its opponents cut the deficit to 82:80.
Würzburg got off to a lightning start in the new season, with seven of its first eight shots hitting their mark. Bamberg was too sluggish and slow in defensive in the first five-and-a-half minutes to be able to cope with the high-paced basketball its opponents from Lower Franconian produced. It was not until it was trailing by 9:15 that Bamberg was able to sporadically thwart Würzburg's attacks. However, Bagatskis' players missed too many shots in offense in this spell and so the home opened up a ten-point gap at the beginning of the second period (13:23). Bamberg then finally got into its stride: New signing Stevan Jelovac (17 points), who squandered his first four shots, now drained a lay-up, a bucket from downtown and two free throws to add seven points. And the American Augustine Rubit almost drove Würzburg to despair with his accurate shooting in the second period, reliably burying lay-ups and half-distance shots. Würzburg was only able to stop Rubit with fouls, but even then he made all of his free throws. Rubit notched up eleven points in the second quarter and put Bamberg in front for the first time with a lay-up (29:28) – a lead that the youngster Arnaldas Kulboka helped his side hold onto at half-time with one of his feared three-pointers with five seconds remaining before the break (39:37).
The third period began well for the visitors with a bucket from beyond the arc by the former Würzburg player Maurice Stuckey (13 points), but Bagatskis' team was not able to pull away. The lead changed hands six times in the third quarter before Daniel Schmidt, who was signed in the pre-season, put his new club 61:58 ahead with a three. Playmaker Tyrese Rice took things into his own hands at the opening of the final period: His only bucket from outside out of seven attempts and a lay-up plus a bonus free throw stretched the gap to 69:63, after which the outstanding Augustine Rubit (24 points) added his next lay-up to give the visitors their highest lead (82:74) with two minutes to go. Yet it seemed as if the basket was boarded up after that: Rice was too selfish, Zisis' shot from downtown rebounded out of the basket, and Rubit missed a lay-up. Würzburg cut the deficit to 82:80 with 14 seconds left, but then Bamberg played the clock down and Jelovac added two free throws to make the final score 84:80.
Ainars Bagatskis commented: "It was a tough game for both sides. Würzburg had an advantage due to the atmosphere in the arena and their fans' support. We succeeded in eliminating our weaknesses in defense. I think Würzburg is one of the best shooting teams in the league. We managed to defend well against its three-pointers and keep that percentage down to just 32. However, its two-point field goal percentage was more than 60. But that's basketball, that's part of the game. In the encounter's crucial moments, we perhaps had a bit more luck and also a bit more experience and we capitalized on that today."