Wuerzburg
s.Oliver Würzburg captures its third win out of three this season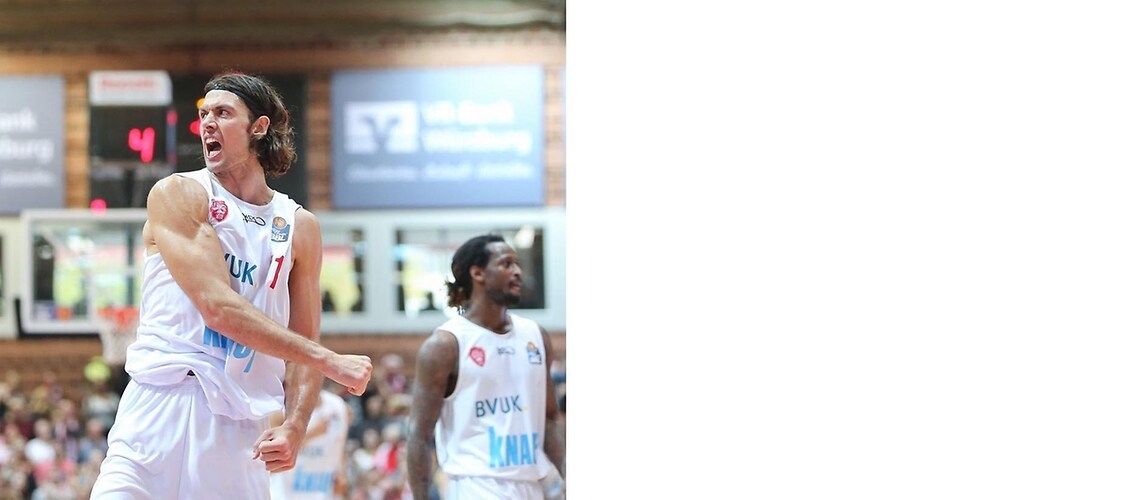 Wuerzburg, 10-08-2017
s.Oliver Würzburg remains undefeated after three matchdays in the new easyCredit German Basketball League season. After a fiercely contested encounter, the team of Head Coach Dirk Bauermann won 74:64 at home against Bremerhaven Polar Bears in front of 3,021 spectators in the s.Oliver Arena on Sunday afternoon. The key man in the comeback was Kresimir Loncar, who notched up 16 of his 20 points in the decisive final period.
After just less than three minutes of play, the 34-year-old suffered a painful blow against his right knee and spent the remainder of the first half on the bench. At the time he was injured, the home side was trailing 2:8 after a dozy start – whereas the visitors from the far north of Germany scored far better than Würzburg, who managed a meager four buckets out of 22 attempted two-pointers in the first half.
Bremerhaven defended with a lot of focus and scored better from all positions in the first half – and that was enough for the Polar Bears to open up a double-digit lead shortly before half-time. A three by Maurice Stuckey as the clock ran down made it 30:37 at the break.
The comeback began after Bauermann called a timeout with his side trailing 32:42 in the 23th minute. First of all, Vytenis Lipkevicius reduced the deficit with a lay-up, then Kresimir Loncar came back on court. Two further timeouts ensued almost in a one-minute cycle because Cliff Hammonds and Abdul Gaddy made it 38:42 and then the former Würzburg player Ivan Elliott and Johnny Berhanemeskel struck back for the Polar Bears.
The home side then produced a 17:2 run straddling the periods to turn the game around and cause the arena to erupt. First of all, there was a string of eight without reply, with six points by Gaddy and a jump shot by Kreso Loncar to tie the scores at 46:46. Then Brembly added a lay-up after snapping up an offensive rebound to make it 46:48 after 30 minutes of play. Würzburg's captain Loncar chalked up the first nine points of the final period to put his team on the road to victory.
"I don't know many 34-year-old players who get a jab because of knee problems and then go out and give their all for the team again. Kreso's return sparked the other players into action. That's just exemplary," said Bauermann. With the score at 55:48, the Polar Bears continued to put up stiff resistance with four points from center Geoffrey Groselle. Two minutes later, it was yet again Loncar and Gaddy who stretched the lead from 59:55 to 65:55 with two threes in a row to seal s.Oliver Würzburg's seventh straight win straddling the seasons.