Würzburg
s.Oliver Würzburg defeats Bayern and Tübingen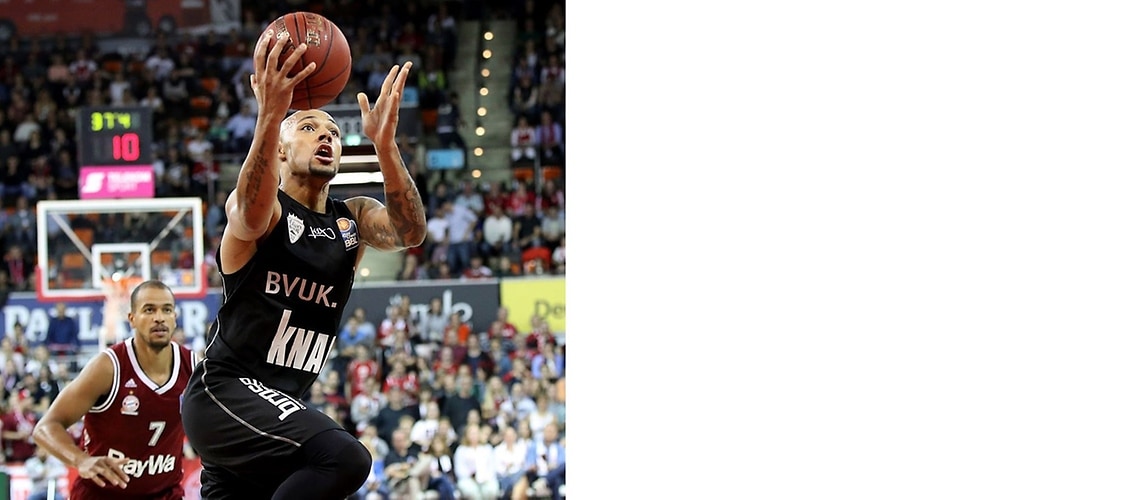 Würzburg, 10-15-2017
The new leaders of the easyCredit German Basketball League are s.Oliver Würzburg. The team of Head Coach Dirk Bauermann is the only team to remain undefeated after five matchdays. The top scorer in the game against Tübingen was Robin Benzing with 19 points.
Despite the fact that captain Kresimir Loncar was missing again, Bauermann's players got off to a very strong start. Leon Kratzer joined Maurice Stuckey, Robin Benzing, Clifford Hammonds and Abdul Gaddy for the first time at the tip-off. The 20-year-old center made it 4:2 with a lay-up in the second minute to spark a run of 9 points without reply that put the home side 11:2 in front.
In particular Ryan Brooks, Reggie Upshaw and Jared Jordan put up stiff resistance for the visitors. However, they were not able to prevent the club from Lower Franconia taking a clear 45:30 lead at half-time. After the break, things went better for the Tigers, who never gave up and were able to keep the second-half evenly poised. However, the home side always had a quick response to every run by the visitors. Shortly before the end of the third period, Kris Richard cut the deficit to 65:55 with a bucket from downtown, but Osvaldas Olisevicius made it 67:55 shortly before the buzzer and then added a three on the first attack of the final quarter.
The Tigers fought back to close the gap to 78:68 with just under four minutes to go, but the home side always produced the right riposte. Würzburg only conceded one further point, off a free throw by Richard, while at the other end Abdul Gaddy drained two buckets and Maurice Stuckey one to make it 84:68. A little later, it was Würzburg who celebrated taking over at the top of the league following its surprise win in the derby against Bayern Munich on Friday and the home win over the Tigers.
"The fact that we've beaten Bamberg and Bayern Munich and now top the table isn't normal, but something special. Of course, we're delighted about that," emphasized Bauermann after the game. "All the same, we have to keep both feet on the ground, keep on working away and become even better in many departments. No one should get complacent and think a win in Braunschweig next weekend is a foregone conclusion."
s.Oliver Würzburg now travel to Basketball Lions Braunschweig on Saturday and then welcome EWE Baskets Oldenburg, one of the league's top teams, to the s.Oliver Arena a week later.