Würzburg
s.Oliver Würzburg defeats Mitteldeutscher BC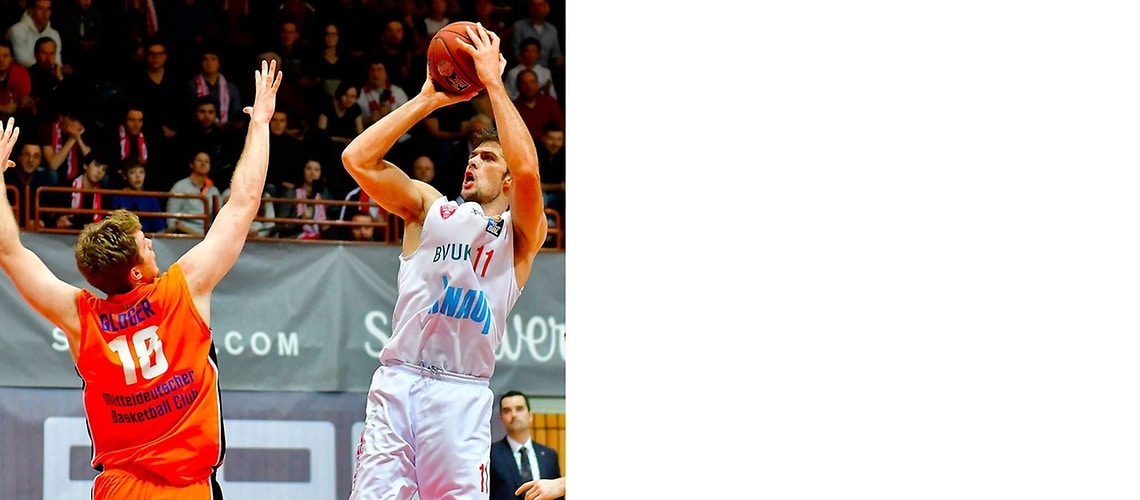 Würzburg, 11-18-2017
Head Coach Dirk Bauermann included three German players in his starting five: Maurice Stuckey, Robin Benzing and Leon Kratzer lined up against the Wolves alongside Clifford Hammonds and Vaughn Duggins. Whereas s.Oliver Würzburg was able to field its best team, the MBC was missing Djorde Pantelic and Kruize Pinkinson court – and its Head Coach Igor Jovovic on the sideline through illness.
The visitors needed a few minutes to get into the game. The home side surged 7:0 in front before Till Gloger put the first points on the board for the Wolves. The replacement for Pantelic followed that up with two more lay-ups to spark the MBC's strongest spell in the encounter. Würzburg was still ahead in the 7th minute, but then Gloger and his teammates produced a 23:2 run straddling the period to give their side a 17-point lead by the 15th minute. It was only a bucket from beyond the arc by Cliff Hammonds that stopped the visitors' strong phase. "We were too passive and cautious after the early lead. You never win a game by being cautious – you have to keep on attacking," said Dirk Bauermann afterwards. Hammond's three marked the start of a more than five-minute spurt of 14 points without reply by Würzburg to close the gap to 34:37.
In the third period, the home side then needed until the 27th minute to equalize. The MBC's guard Lamont Jone struck back with eight straight points after eight points by Robin Benzing and buckets from downtown from Abdul Gaddy and Kresimir Loncar. However, even he was not able to prevent Würzburg taking the lead for the first time in the second half. The club from Lower Franconia led by 59:55 after the third period.
At the start of the final quarter, it was again Abdul Gaddy who scored off an offensive rebound to make it 61:55. The Wolves then managed to get within four points, but the home side and the captain of the German national team did not give them a look-in in the final six minutes: Robin Benzing scored eight of Würzburg's last ten points to finish as top scorer and seal a hard-fought win. The encounter ended 71:61.