Braunschweig
s.Oliver Würzburg suffers its first defeat of the season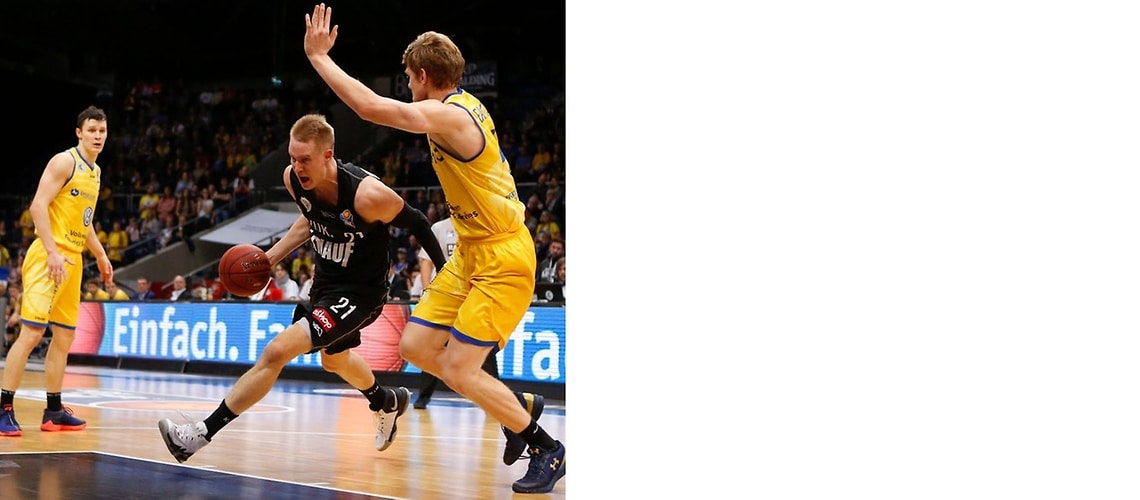 Braunschweig, 10-21-2017
On the 6th matchday of the easyCredit German Basketball League, the team of Head Coach Dirk Bauermann finally lost by 71:73 at Basketball Lions Braunschweig after a tight and thrilling encounter. The game's top scorers with 29 points each were Robin Benzing for Würzburg and Scott Eatherton for Braunschweig.
The game swayed to and fro in the opening six minutes, with the scores tied on four occasions. The visitors produced a run of eight points without reply to make it 12:18, but Braunschweig struck back before the end of the first period.
At the start of the second quarter, it was then Robin Benzing and Maurice Stuckey who gave Würzburg its highest lead with three buckets from outside and a total of eleven points. With the exception of the final minute, it was to be the only spell in the game where the club from Lower Franconia scored well from the three-point line. After that, Würzburg lost the plot completely in offense and, apart from three free throws, it failed to add a single point in the last five minutes before half-time. The Basketball Lions exploited that to equalize by the break (34:34).
In the first four minutes of the third period, s.Oliver Würzburg again only scored three points, through their captain Kresimir Loncar. Dirk Bauermann called a timeout and put his team back on track. After that, Würzburg defended more aggressively again and fought its way back into the game. Maurice Stuckey managed to tie the scores again with one of his artistic lay-ups, then DeAndre Lansdowne put the Lions ahead again with a bucket from downtown at the end of the period (55:52).
The game remained exciting in the fourth quarter. Robin Benzing scored the last twelve points for his team single-handedly. Jarekious Bradley then made an and one, after which Zygimantas Janavicius drained a three for Braunschweig to make it 69:63 with 58 seconds left on the clock. In the final minute, the visitors sent Scott Eatherton twice and Thomas Klepeisz once to the line with tactical fouls. Robin Benzing buried two difficult threes at the other end. The game was sealed with the score at 73:71 for Braunschweig when Benzing attempted his final bucket from outside to give his side victory – but unfortunately it failed to drop.
Dirk Bauermann commented: "We're not Bayern Munich or Bamberg. We have to work hard for every victory. Today, we didn't invest enough over the forty minutes against a team that had an incredible will to win."