San Benedetto
Singles Semifinals and Victory in the Doubles for Krawietz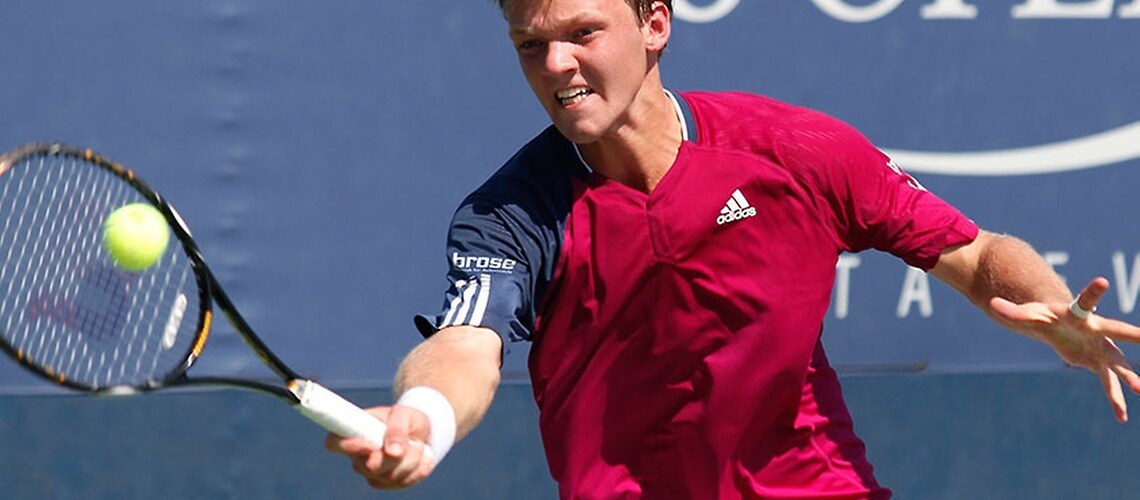 San Benedetto, 07-17-2016
Kevin Krawietz, tennis pro from the town of Witzmannsberg, took home very good results from the ATP Challenger Series in Italy. In San Benedetto, Krawietz made it to the semifinals of the main tournament.
A strong qualifying field had registered for the tournament, but after fighting his way through the preliminary rounds, Krawietz reached the quarterfinals, where his opponent was L. Djere from Serbia. Djere, 214 in the WRL, dominated the first set, winning it easily 6:2. Krawietz turned up the heat in the second set, putting his opponent under pressure by coming to the net more and using backspin stops to win it comfortably. The third set was evenly balanced and it came to a tiebreak. Krawietz led 6:2 with four match points in hand and had the game well under control, until Djere suddenly turned on the style and leveled the score at 6-6, but Krawietz kept his head and finally won 9:7.
His semifinal opponent was C. Lesienne. Having lost the first set 1:6, Krawietz turned the tables and won the second 6:4, but the Frenchman dominated the third set and Krawietz lost out 1:6. "It was my seventh singles match plus two doubles and my energy levels were really running low," said Krawietz after the game.
In the doubles quarterfinals, his partner was Dino Marcan – and in a real cliffhanger, they lost 9:11 to eventual tournament winners F. Gaio/S. Napolitano (Italy).
The next stop was Recanati, where Krawietz could only compete in the doubles competition because the singles qualifying had already begun on the Friday – and he was still playing in San Benedetto on Saturday. Krawietz and his partner A. Olivetti had a bye in the first round – and when they beat the Italians Frigerio/Vilardo, they found themselves in the semifinals. It was a tough match against the Russians Igoshin and Sabanin, but Krawietz won the decisive point with his own serve in the tie break and the team had reached the final! Their opponents were R. Bemelmans, a Belgian Davis Cup team member and Spaniard A. Mendendez-Marceiras. Once again the match went all the way to a tiebreak – but Olivetti and Krawietz fought hard to win through 6:3, 6:6 (7: 4).
The great results from these two tournaments saw Krawietz improve his singles and doubles world rankings to 362 and 166 respectively.