Würzburg
s.Oliver Würzburg loses to GIESSEN 46ers by 81:86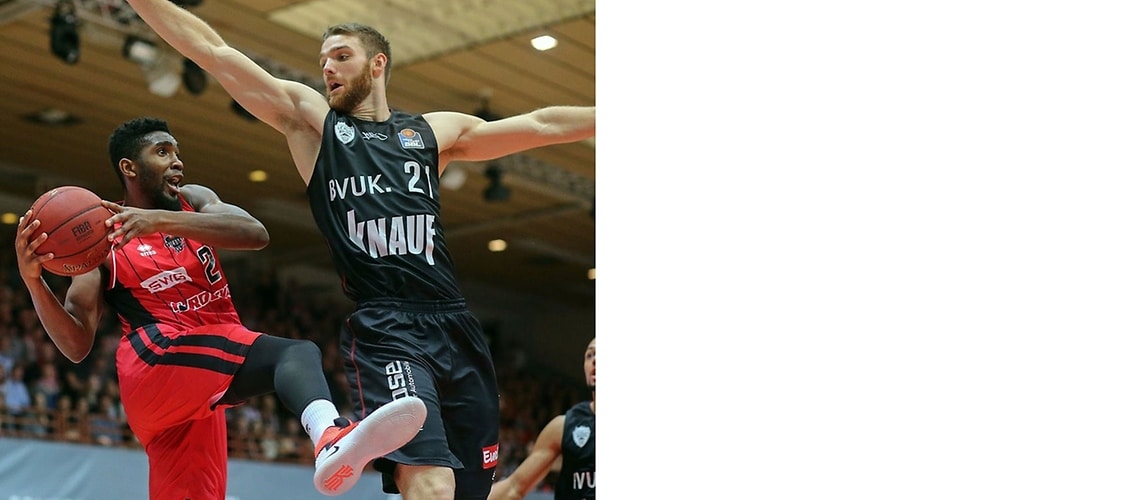 Würzburg, 11-05-2016
There lead changed hands on 18 occasions and the scores were tied eight times: The tussle between s.Oliver Würzburg and GIESSEN 46ers was – like the two encounters from last season – a thrilling affair right to the death. In the end, the visitors came out on top, winning by 86:81 (43:44) in front of 3,140 spectators in Würzburg's s.Oliver Arena, which was sold out for the 75th time out of 75 German league games. s.Oliver Würzburg's Head Coach Doug Spradley was in particular not happy about his team's defense: "When you score 81 points at home, you have to win the game."
From the outset, the encounter swayed to and from in a classical "game of runs" – Gießen first led 0:4, then the home side went 8:4 in front in the 5th minute, then the game was tied again after six minutes (12:12). The first period ended with the score 21:21, after which the encounter remain totally open until James Southerland drained a bucket from beyond the arc to make it 26:26 in the 13th minute.
After that, the visitors opened up a slightly clearer lead for the first time, starting with a three-pointer by the former Würzburg player Joshiko Saibou. Spradley called a timeout with the score at 28:36 in the 16th minute and got his players back on track. At the end of a first successful comeback, Maurice Stuckey with a slam-dunk and Jake Odum with a lay-up – each time after Gießen lost possession – snatched the lead for their side (42:41 in the 19th minute).
The club from Lower Franconia also took a narrow lead 44:43 in with it at half-time – despite the fact that it was clearly inferior in rebounding in the first twenty minutes (8:18) and was also not able to snap up any offensive rebounds, compared to Gießen's 7. It was able to offset this shortcoming in the first half by making six steals, while just conceding three turnovers.
It was initially the 46ers who got into the game better after the break. The home side managed a meager four points through Brendan Lane in the first six minutes of the third period – and the club from Hesse capitalized on this weak spell in offense to open up a 48:59 gap in the 27th minute. Würzburg then set about staging its next comeback and produced a 13:2 run straddling periods to take the lead back. Charles Barton drained a bucket from downtown at the start of the final period to make it 62:61 in the 31st minute. Shortly afterwards, Maurice Stuckey followed suit (65:63). On the away side, it was only playmaker Cameron Wells who put up any stiff resistance by scoring ten successive points in this decisive phase. It was also the 28-year-old who was responsible for the lead changing hands for the 18th and last time in the 35th minute with two free throws and a jump shot to make it 68:71.
The 46ers then opened up a seven-point gap again with their next run (68:75 in the 36th minute) and were able to successfully defend their lead. Although s.Oliver Würzburg kept within striking distance to the end, Gießen was assured of victory when Brendan Lane was not able to bury two free throws with the score at 77:82 and with 25 seconds left on the clock.