Karpfham
Successful end to the season for Dominik Dinkel: 2nd place in the German Rally Championship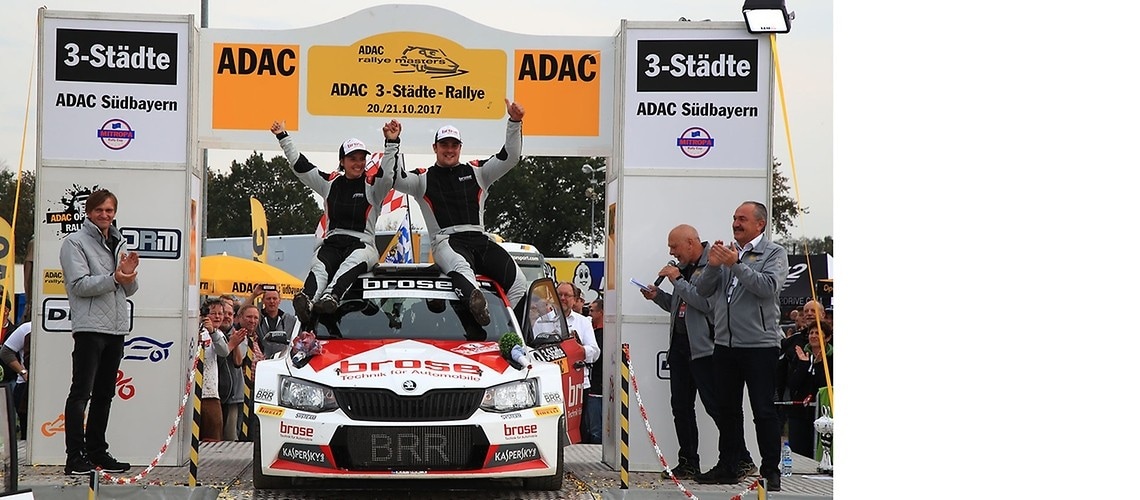 Karpfham, 10-21-2017
Dominik Dinkel and co-pilot Christina Kohl again captured a spot on the rostrum in the German Rally Championship (DRM) and secured second place in the overall standings with 144 points.
At the Three Towns Rally on October 20 and 21, at which 147 participants (a new record for the season) lined up, the Brose Motorsport team fended off strong competition to seal its second victory. After ten trials over 128.84 kilometers, Dinkel/Kohl won with a time of 1:11:29.4 hours ahead of defending DRM champion Fabian Kreim (1:11:43.3).
Since the beginning of the year, Dinkel and Kohl have been among the co-favorites in every outing, despite the fact that the switch to the around 280-hp Skoda Fabia R5 – apart from being a pleasure to drive – meant quite a big process of adaptation for the pilot. "It was a completely new car for me, but has enormous potential," stated the 24-year-old. Yet the driver from Rossach demonstrated his great talent and was always on the rostrum – with the only exception being at the race in Sulingen at the start of May, where he made a small mistake that had a great impact when he was forced to withdraw after hitting a tree root.
A key component in the latest success was the adjustment to the planning midway through the year. Instead of competing in the German world championship race, the team decided to take part in two races in the Austrian championship on highly challenging asphalt routes. "That let us get to know our car better," says Dinkel, who as always was able to fall back on the experience of his team director Raimund Baumschlager, whose knowledge of the courses in his home country of Austria is unrivaled. The results of this special training camp were not long in coming. At the Lower Saxony Rally around Osterode in the Harz Mountains, Dinkel and Kohl captured their first overall victory in the DRM.
The groundwork has been done for 2018 and Dinkel also feels sure: "When we line up in the German Rally Championship next year, anyone wishing the win the title will have to get the best of us first."