Losail
Tiago captures career-best overall result in the WTCC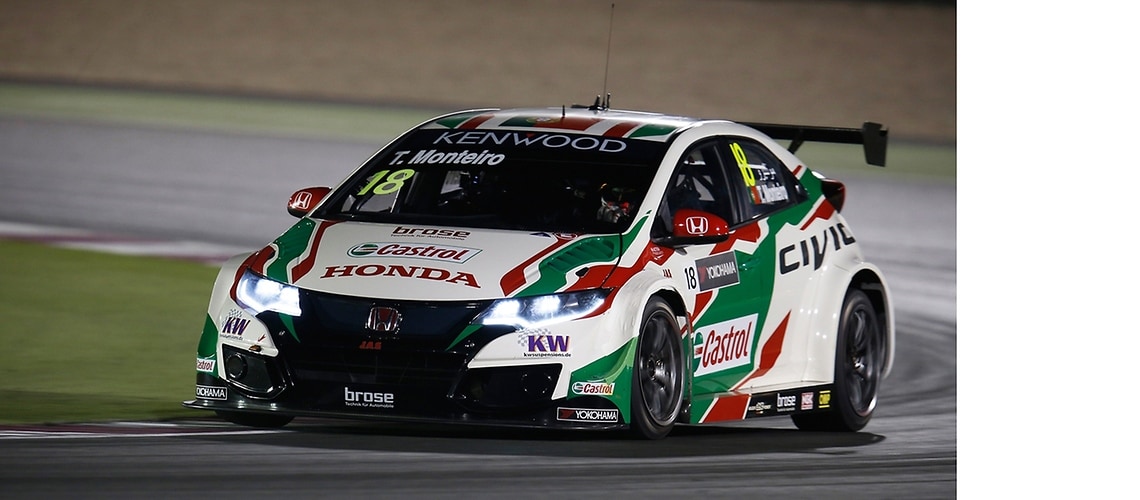 Losail, 11-27-2016
An enormous success for Tiago Monteiro: The Honda pilot, who is sponsored by Brose, has finished a season in the World Touring Car Championship (WTCC) among the top three in the overall standings for the first time in his career. His third place behind Jose-Maria Lopez and Yvan Muller (both in a Citroën) was his best result since he moved from Formula 1 to the World Touring Car Championship in 2007. At the same time, he is the best pilot of the very successful Honda outfit this year. His teammates Norbert Michelisz from Hungary and the British pilot Rob Huff finished fourth and sixth in the drivers' championship.
However, the final weekend of racing did not go as successfully for Tiago as he had hoped. In the floodlight spectacle in the desert of Qatar, the Portuguese pilot began the Opening Race from a promising fourth place on the grid. However, on the very first lap there was a fateful chain reaction, at the end of which Monteiro spun into the side barrier and was forced to retire from the race. Before that, he had been involved in scrapes with Lopez and Hugo Valente (Lada).
"There were a lot of contacts. I was pushed while braking and then ran into Pechito Lopez. I was hit again while accelerated and then spun into the tire wall," said Tiago: "I don't want to blame anybody, since everyone is jostling for position on the first lap, but it's very frustrating." The stewards deemed that the collision had been caused by the Moroccan Mehdi Bennani (Citroën) and punished him with a drive-through penalty. Tiago's teammate Huff came third behind Gabriele Tarquini and Tom Chilton.
Tiago claims third place ahead of Michelisz
Although Monteiro's car was substantially damaged after the collision, he was able to take part in the Main Race. "The first people I want to congratulate are my mechanics," he said afterwards to thank the crew that had enabled him to line up in the first place. "After the damage from the first race, I no longer thought I had a chance of starting the second. But they did an incredible job and I was able to hold on to my third pace in the overall standings."
The 40-year-old finished fifth in the final race of the season to do just that – and claim third spot in the drivers' championship just one point (214:213) ahead of his Honda teammate Michelisz. Starting from seventh on the grid, Tiago was able to move up two places by the end to finish the race, which was won by Bennani, just one spot behind Michelisz. He aims to improve even further next season. "Next year we'll win the world championship title," he vowed in Qatar.