Leipzig
Basketball: Brose Bamberg lands fifth win in a row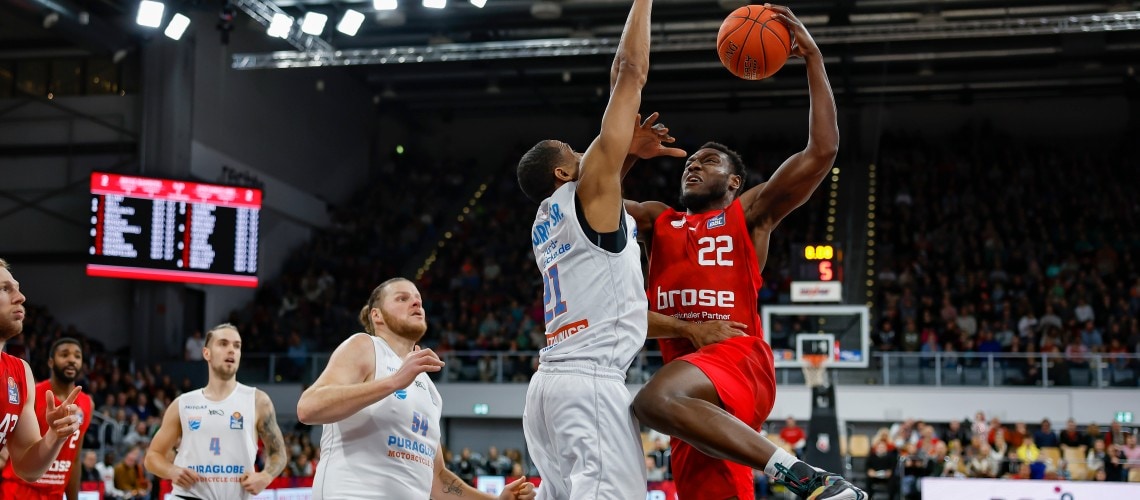 Leipzig, 03-11-2023
Brose Bamberg prevailed 99-95 at SYNTAINICS MBC on the 23rd matchday of the Basketball Bundesliga to remain firmly in eighth place. However, the 5th BBL win in a row had a stale aftertaste. Christian Sengfelder injured his ankle after four minutes and could only leave the hall on crutches. His teammates, however, fought for their captain, did not let themselves be rattled by an interim 10-point deficit (26:36, 14th) and had a sharpshooter in Spencer Reaves in the final phase, who sank two difficult three-pointers. The best scorer for the Bamberg team, which won the rebound ratio 41:22, was Solomon Young with 20 points. Patrick Heckmann just missed a double-double with 13 points and eight rebounds.
Oren Amiel: "Today the game was won by our team spirit. We lost Chris very early, plus I want to express my condolences here to Patrick Heckmann who lost his stepfather - so it was a very emotional win on many levels. In such situations there are two options: you give up or you win. And by winning, I don't mean looking at the scoreboard at all, but keeping the spirit up and playing hard to finish the game. The guys did a great job today. We felt the 'Red Army' at our backs the whole game, which gave us extra motivation and push. All in all: a great and important win!"
On Wednesday evening, 15.03.2023, Brose Bamberg will play the second leg in the quarterfinals of the FIBA Europe Cup at home in the Brose Arena: starting at 8:00 p.m., the Amiel team will try to make up the three-point deficit from the 77:80 first leg at BC Kalev/Cramo; if they win by more than three points, Bamberg will be in the semifinals.