Crailsheim
Basketball Bundesliga: Brose Bamberg loses to Crailsheim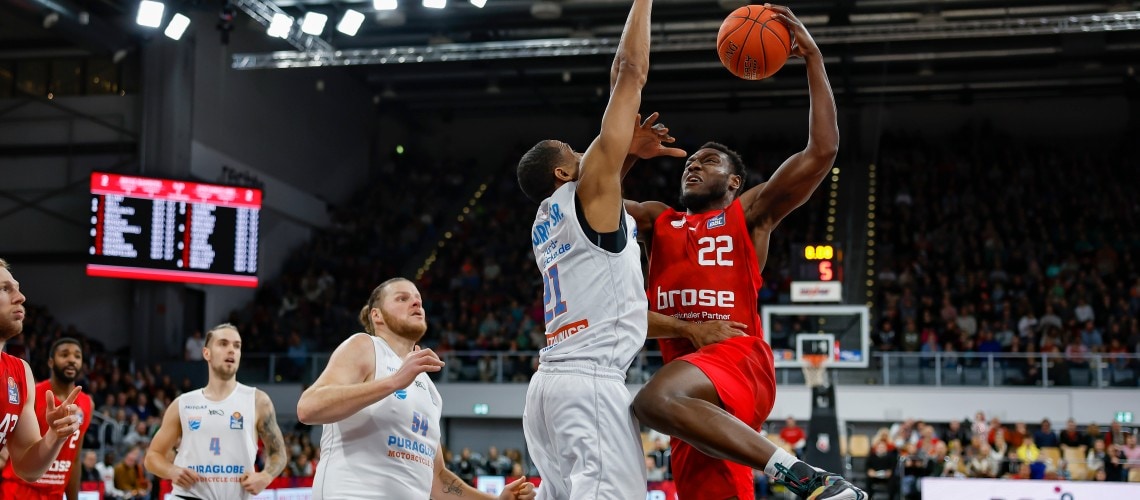 Crailsheim, 04-29-2023
Despite the 92-101 loss to Crailsheim, the Brose Bamberg team still has a theoretical chance of reaching eighth place in the playoffs. To do so, however, they have to win their last two games against Telekom Baskets Bonn, who are unbeaten for 16 games, and Medi Bayreuth, who are sure to be relegated. In addition, Chemnitz, Rostock and Würzburg have to lose at least one of their last games.
In the most recent defeat, Crailsheim quickly saw through Bamberg's defense, especially since center Solomon Young injured his ankle after just 59 seconds, meaning that one of the "big guys" was missing until the end of the game. The home side of the Arena Hohenlohe shifted to three-pointers from the first minute on, which is exactly where Bamberg has been vulnerable all season. Ex-Bamberg player Maurice Stuckey made two three-pointers to make it 18:26 in the first quarter, and the Amiel team was virtually overrun in the second quarter. Miller's three-pointer to make it 20:26 was answered by Crailsheim with a 0:18 run, which the visitors were unable to counter for four minutes. The home side pulled away to 23:49, before Bamberg came back to 33:51 thanks to six free throws and a layup by Spencer Reaves. With the break siren, Crailsheim's six three-pointers landed in the basket, 36:55.
Although Bamberg was more aggressive offensively in the second half and managed to score 28 points in both quarters after the change of ends, Crailsheim's lead was too high. In the third quarter, the guests briefly shortened the gap to -15 (57:72), but then conceded two threes again. In the final quarter, top scorer Gerel Simmons (23 points) played big up front for the Bambergers - but with his 19 points in the last ten minutes, the American could only push the gap into single digits (92:101).
Oren Amiel (head coach Brose Bamberg): "In the end, we paid for our horror start. They scored well, we could hardly keep a player in front of us. That's a fact and once again the story of a game."
Brose Bamberg hosts league leader Bonn on Thursday, May 4, 2023. Jump in the Brose Arena is at 8:30 pm.