Spa-Francorchamps
24 Hours of Spa: Christian Engelhart captures a podium in his Porsche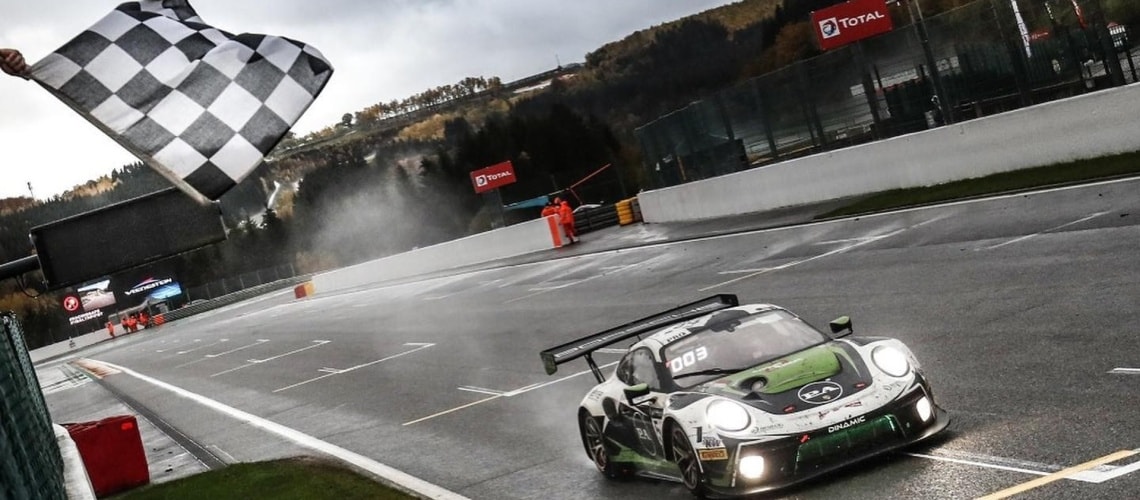 Spa-Francorchamps, 10-25-2020
The 24 Hours of Spa-Francorchamps was a true highlight in GT3 motor racing in this special year 2020. A total of 56 cars lined up for the race, which had been postponed and was impacted by the coronavirus pandemic – and Christian Engelhart, his teammates from the Dinamic Motorsport and their Porsche were among them. In a ferociously contested and thrilling tussle, the GT3 specialist captured a place on the rostrum in this legendary race.
Christian Engelhart together with his teammates Sven Müller and Mateo Cairoli lined up for the Porsche team Dinamic Motorsport in the endurance race in the Ardennes on one of Europe's longest tracks. Starting from 15th on the grid, Sven Müller was able to advance steadily through the field in the opening sections.
The conditions were cold, damp and rainy, a combination that posed great demands on everyone involved and made the race not only exciting, but also strategically challenging. Christian Engelhart took over behind the wheel of the Porsche 911 GT3 R in the night, with the clear mission of continuing to move up the field and above all to avoid making mistakes.
Despite the adverse conditions, as well as many Full Course Yellow and safety car phases, Engelhart summoned up all his experience and managed to improve his position. After many duels, the pilot from Starnberg handed over to Matteo Cairoli in fifth.
The Italian driver likewise faced demanding conditions. Excitement grew again in the final hour when a further safety car phase brought the field closer together again. Moreover, the already lapped cars made it difficult to keep track of what was happening in the race. They had to be overtaken before the drivers could give full throttle and start tussling for position again. Matteo Cairoli coped well and managed to move up behind the third-placed Ferrari, finally overtaking it in the legendary Eau Rouge corner with a spectacular maneuver. That secured a podium placement for Dinamic Motorsport and the whole team was able to celebrate finishing third in the toughest GT3 race of the year.
Christian Engelhart commented: "I'm absolutely thrilled and over the moon about coming third in one of the world's toughest GT3 races. Capturing a podium in it is something very special, especially given that the competition is so enormous. I still can't find the right words to express my joy, even though the race has been over for a while. Our work together over the past months has definitely paid off and been worthwhile."
This success at the 24 Hours of Spa-Francorchamps means that Christian, Matteo and Sven are in first place in the drivers' championship, level on points with the pilots in car number 88. So the objective for the finale on the Circuit Paul Ricard in France from November 13 through 15, 2020, is clear: To go on the attack and clinch the title!