Valencia, Spain
Audi Team Autotest Motorsport is world champion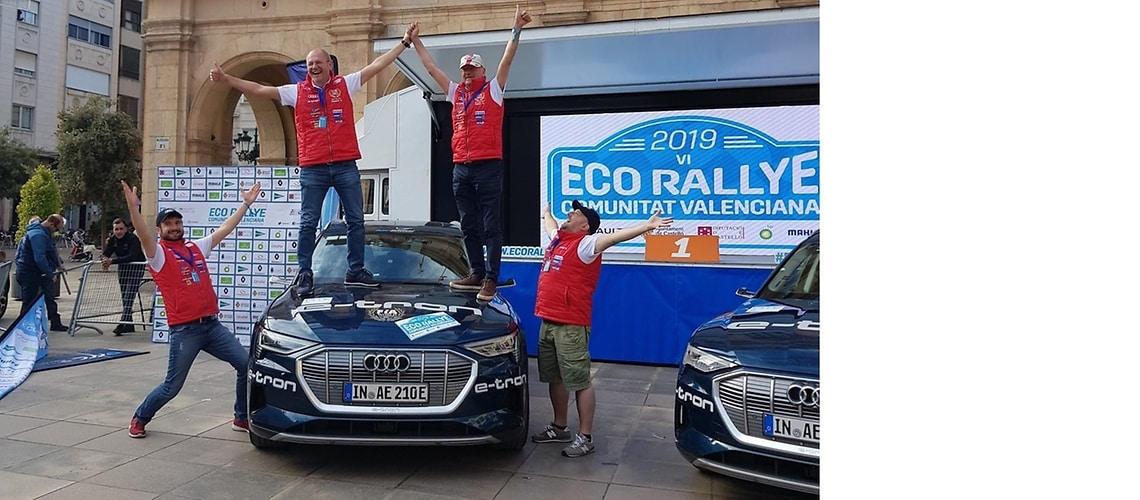 Valencia, Spain, 11-17-2019
What a nail-biting finish to the FiA E-Rally series! At the season's finale in Valencia, Spain, the duo from South Tyrol, Fuzzy Kofler/Franco Gaioni from the Audi Autotest Motorsport Team, Lana, defied all the adversities and finished fifth to capture the 2019 world championship title.
The 13th and final stage of the FIA Electric and New Energy Championship in Valencia was full of thrills right down to the wire. On the first day (Friday), Kofler/Gaioni battled away with the world championship leaders Artur Prusak/Thierry Benchetrit (POL/FRA) in a neck-and-neck affair. On the Saturday, Prusak/Benchetrit made a serious mistake and dropped right down to 15th, with Kofler/Gaioni in sixth. The duo from South Tyrol seized their chance on the Sunday and improved to finish fifth overall and therefore win the world championship title for the best pilot and co-driver in 2019. Prusak/Benchetrit ended the rally in 14th and so were forced to bury their title dreams.
Guido Guerrini/Emanuele Calchetti in the second car of the Audi Autotest Motorsport Team from Lana came second in the final rally of the season and so captured third place in the pilot's and co-driver's rankings, ahead of defending champions Didier Malga/Anne Bonnel (FRA). The season's finale in Valencia – in a race over 470 kilometers and 10 special trials totaling 209 kilometers – was won by local heroes Jose Ignacio Marcos Villoria and Alfonso Oiarbide Askondo.
That means that all three titles in the FIA Electric and New Energy Championship went to the Audi Autotest Motorsport Team from Lana. The outfit of team principal Josef Unterholzner had already sealed the manufacturer's title going into the penultimate race of the season. "I'm over the moon. We've achieved our goal for the season. It was exciting to the very end, but our pilots and co-pilots showed what they're made of. My compliments to the whole team."
There was a flurry of excitement shortly after the race, when the defeated Prusak/Benchetrit filed a protest with the stewards and demanded the disqualification of Kofler/Gaioni. The stewards attested that the Audi E-Tron complied fully with the rules and rejected the protest.