Braunschweig
Bamberg captures victory with a strong final spell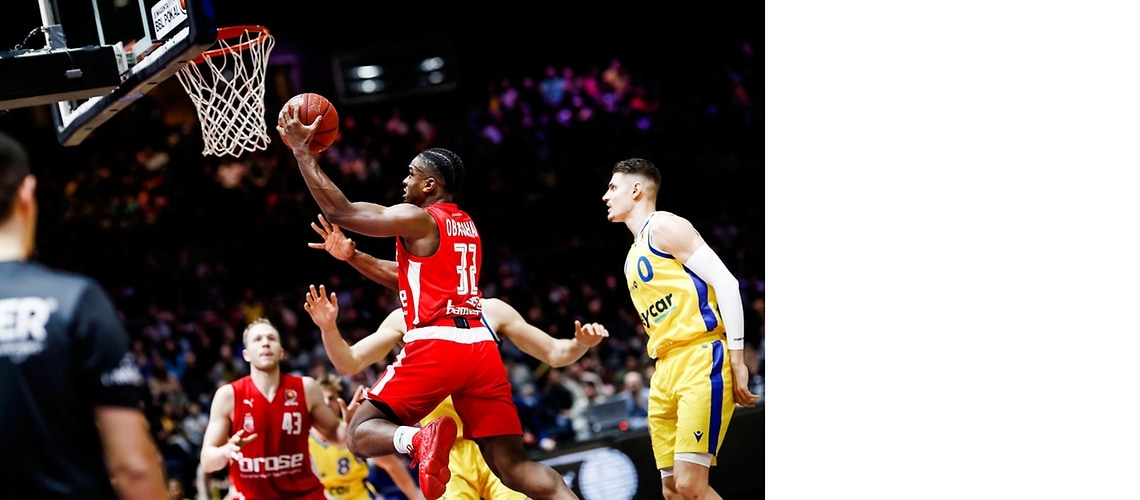 Braunschweig, 01-26-2020
It was a win that will leave Brose Bamberg brimming with confidence. After a checkered first half (45:52), the team of Head Coach Roel Moors turned the game at Basketball Lions Braunschweig around in the second half to win on the road by 94:85. After the end of the first half of the season, Bamberg is nevertheless only in ninth spot in the table, with nine wins and seven defeats.
Bamberg struggled mainly in defense in the first half, conceding possession on too many occasions and so allowing Braunschweig to launch fast attacks, which the home side often exploited to add threes. The club from Lower Saxony drained nine buckets from downtown out of 17 attempts before the break – an excellent shooting percentage. As a result, the home side built a narrow advantage (9:13 and later 21:27), but Bamberg closed the gap right away. Elias Harris added six straight points at the start of the second quarter to tie the scores at 27:27. However, Moors' team was not able to snatch the lead. After Christian Sengfelder's three to make it 41:43, Braunschweig benefited from a four-point play to move 43:52 in front. Thanks to a crazy tip-in after snapping up two offensive rebounds, Darion Atkins reduced the deficit to 45:52 at half-time.
Bamberg came out after the break as if transformed, especially in defense: The visitors skillfully closed down their opponents' passing lanes, gave Braunschweig hardly any space to run freely, and so prevented it from taking unimpeded shots from beyond the arc. The home side added just a single three in the second half. And since Bamberg likewise defended skillfully below its basket, the deficit gradually melted. Seven points from Christian Sengfelder and a three by Louis Olinde helped Bamberg catch up (56:56) and then 120 seconds later Paris Lee put his side in front for the first time since the 2nd minute (61:60). The lead now changed hands on just about every attack until four minutes were left to go. Bamberg lost many games in crunch time in recent weeks due to serious mistakes in offense and poor scoring in attack. That was not the case in Braunschweig: Whereas Lee (11 points), Harris (15), Obasohan (13) and top scorer Sengfelder (19) successfully finished six attacks in succession to put the visitors 93:83 ahead, Braunschweig squandered a string of attacks. Bamberg's 16:4 run at the end gave it a deserved victory and a big boost to its confidence.
Roel Moors, Head Coach of Brose Bamberg, commented: "I'm happy with the win and very proud of my players. This wasn't an easy game. Braunschweig drained nine out of its 17 attempted threes in the first half. We conceded 52 points as a result and that's not normal for us. We defended a lot better against Braunschweig's threes in the second half. We won the rebounds – against a team that's really good in that department. So all it all it was a very good victory for us."
Brose Bamberg are back on court tomorrow, Tuesday, January 28, 2020, on the road at Peristeri Winmasters (tip-off: 6 p.m.). Moors' team has to win against the fourth-placed Greek club to maintain its chances of qualifying for the playoffs in the Champions League.
For more information visit www.brosebamberg.de, www.easycredit-bbl.de and http://www.championsleague.basketball/de.