Coburg
Basketball: BBC Coburg have to concede defeat to the serene Erfurt team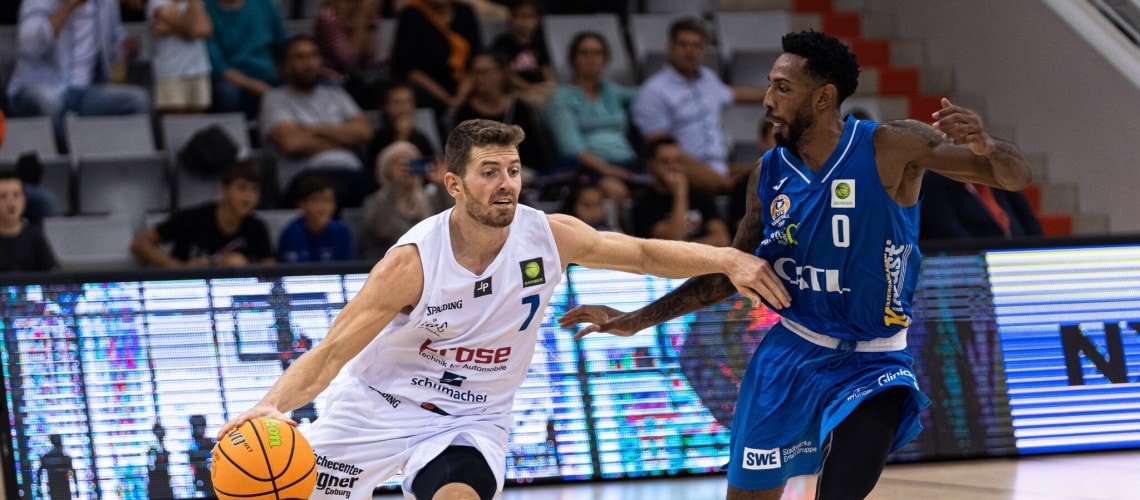 Coburg, 10-03-2023
Two days after their first win of the season in Ulm, BBC Coburg suffered their first defeat of the new season at home in the HUK-Coburg arena against the CATL Basketball Löwen from Erfurt. In the end, the Coburg team lost 78:83.
Coburg started the game very uncertainly and was down 0:7 early on. It was only after more than five minutes that the later top scorer of the BBC Adrian Petkovic scored the first points for his team. In the course of the first quarter, the Coburg team fought its way back bit by bit, so that the score was 16:16 going into the second period.
After another balanced and, above all, error-ridden second quarter, in which both teams continued to attract attention with numerous ball losses rather than successful offensive actions, the score went into the half-time break tied at 36:36.
In the second half, neither team managed to pull away decisively. An exciting crunch time was therefore inevitable and the fans in the well-attended HUK-Coburg arena got to see it. At 75:75, the last two minutes of the game began with Tyseem Lyles, who had been rather inconspicuous throughout the game, becoming the match-winner for the visitors. He sank two three-pointers within three attacks and thus put an end to all Coburg hopes of a second win in the second game of the season.
Head Coach Patrick Seidel summed up the home defeat: "We started out super nervous. But what I liked was that we were very stable in defence at the beginning, and we actually managed that quite well throughout the game. Offensively, we unfortunately shone with turnovers in situations in which we normally always stayed calm. It could be that we don't know these tight situations yet because we have won the games quite clearly so far and last week only the final phase was tight. Today it was tight for the complete 40 minutes and then you lose a game like that, but that's sport."
BBC Coburg will have the chance to make amends on Saturday, 7 October at 7.30 pm at the still winless Ahorn Camp BIS Baskets Speyer.