Coburg
Basketball: BBC Coburg secures third home win in a row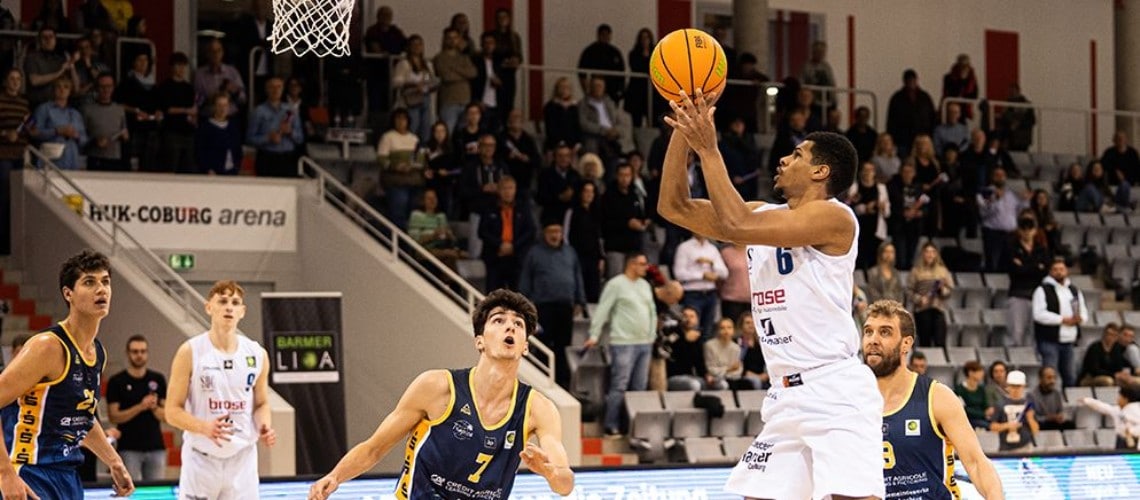 Coburg, 11-04-2023
BBC Coburg remains on the road to success and celebrates its third home win from its last three home games. The club from Coburg won confidently and unchallenged by 86:69 against the experienced team from Oberhaching.
They were already able to extend their lead to over 10 points in the first half at the start of the second quarter and gradually built on this until the end of the game. BBC Coburg's top scorer was once again shooting guard Gabriel Kuku with 15 points. He was followed by captain Lorber and point guard Kondrakov with 11 points each - it is particularly pleasing that all players were able to get on the scoresheet.
Oberhaching started the game by switching defences straight away, which gave them a 6:2 lead. The home side then adapted better and better to the Tropics' play and won the first quarter 21:14. In particular, Sven Lorber's ball gains repeatedly resulted in simple fast attacks and the game went into half-time with a comfortable 46:32 lead.
The third quarter was evenly poised, with the club from Upper Bavaria never falling below the magic 10-point threshold. The visitors' coach Mario Matic then caused a stir when he was forced to leave the court shortly before the end of the third quarter due to two technical fouls. Coburg then left nothing to chance in the final quarter and took the game home by 86:69. All players got on the scoresheet and Coburg added 22 assists, underlining the team's performance in Coburg's fourth win of the season.
Head Coach Patrick Seidel on the third home win of the season: "As expected, Oberhaching was an unpleasant team to play against. They changed their defence often and wanted to throw us off our rhythm. We coped well and always found the right response, whether against zone defence, man-to-man defence or pressing defence. I was able to give everyone playing time and I'm happy with our performance today. Games like this are often harder to play than close games. The boys did a good job today and kept up their performance over 40 minutes. We'll now use the week to top up our tanks a little and then look forward to a really intense derby in Breitengüßbach."
BBC Coburg will have a week off next week before the derby against TSV Tröster Breitengüßbach in the Hans-Jung-Halle in Breitengüßbach on Saturday, 18 November.