Chemnitz
Basketball Bundesliga: Bamberg Baskets also clearly beaten in Chemnitz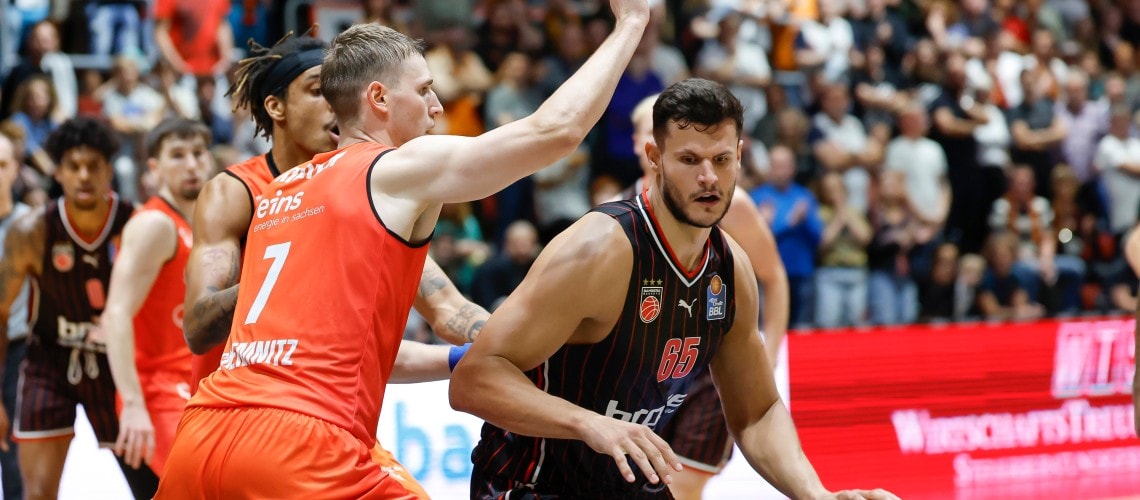 Chemnitz, 10-02-2023
The Bamberg Baskets also lost their second game in the Bundesliga. Head coach Oren Amiel's boys suffered a 79:109 defeat at the hands of the Chemnitz Niners, the second "hundred" in a row. Shortly before the half-time break, the Bamberg team lost the thread and could not make up the 12-point deficit even after the break.
As in the first game of the season away in Vechta, Bamberg did not start the game badly: Top scorer Justin Gray hit two three-pointers, Adrian Nelson the basket and Bamberg led 13:7. But that should remain the highest lead of the guests, the home side took a time-out and came back on the court better, especially defensively. As a result, Bamberg had to work harder to score points, while Chemnitz was already successful after the first quarter, mainly with quick attacks. At the beginning of the second quarter, the Saxons quickly pulled away to 26:36 thanks to a 0:9 run, and the guests only regained their composure at 28:42. Adrian Nelson hit a three-pointer and a basket and Bamberg were back within 40:46, unfortunately centre Filip Stanic had already missed seven free throws by then. Chemnitz took advantage of two bad passes in the last minute before the break and let Bamberg go into the break with a 42:54 lead.
After the change of ends, Bamberg's desolate defence had nothing to offer the Saxons. Already three minutes into the third quarter Bamberg was behind by more than twenty points, especially in defensive rebounding Bamberg was weak. Twenty rebounds at the Bamberg board were secured by the home side and they scored just as many points from them. The Chemnitz team's offensive play was also more fluid and, above all, faster than that of the Amiel team: 17 Chemnitz points resulted from fastbreaks, while Bamberg scored none. This was also because Malik Johnson and Trey Woodbury were unable to set up the game fluently. A 0:13 run in the last two minutes made the 30-point defeat perfect for Bamberg.
Oren Amiel (Head Coach Bamberg Baskets): "Congratulations to Rodrigo Pastore for this victory and the performance of his team. It is impressive how the Chemnitz organisation is developing. I don't want to say too many words about our performance. I am ashamed and disappointed. This club, Bamberg, has such a great history and it's not just about winning or losing, but above all about spirit. We have to live with today's performance for the next two weeks and see that we improve tremendously before the next game."
On Sunday, 15 October 2023, the Bamberg Baskets are away to Hamburg Towers in the second round of the BBL Cup. They are also under pressure after the 58:88 home defeat against the Würzburg Baskets. Jump is at 3.30 pm.