Bamberg
Basketball Bundesliga: Brose Bamberg enters the play-offs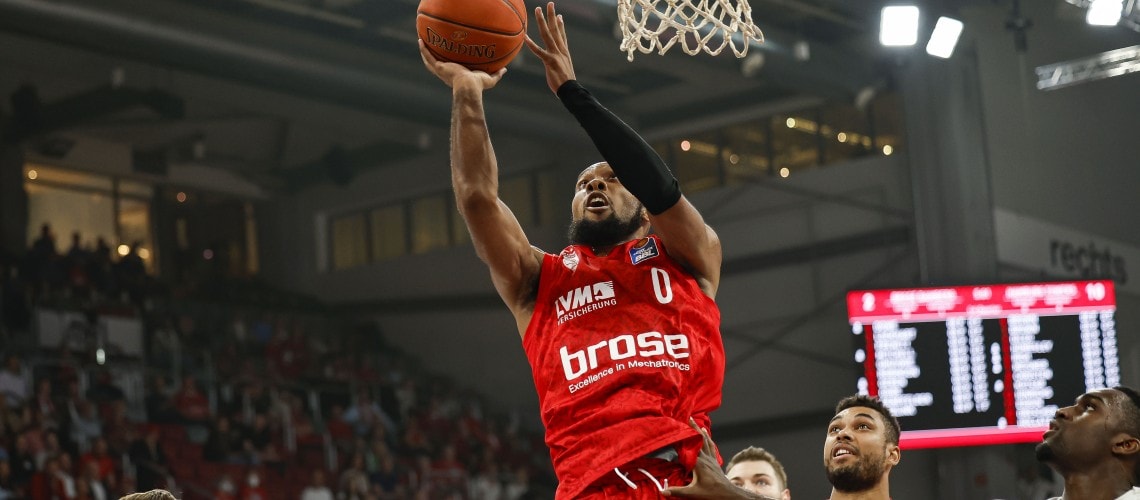 Bamberg, 05-08-2022
Brose Bamberg is in the playoffs of the Basketball Bundesliga for the 21st time in a row! With a 77-67 win over Hamburg Towers, head coach Oren Amiel's team secured the last available play-off spot on Sunday night.
In the first minutes of the game, the pressure to win was evident for the home side - 0:7 after three minutes, 2:10 after five minutes. But this changed with the substitution of Justin Robinson. The playmaker immediately hit a three-pointer at 7:10 and spurred his teammates on so that they courageously went to the basket and took free throws at 10:14. Robinson hit the next three-pointer and in the following attack hit another distance shot from almost the same spot with a bonus free throw: 17:14 - the first lead of the home team. Across the quarters, the Amiel team went on a 20:1 run and led 27:15 after 13 minutes and two distance throws by Christian Sengfelder. But after the next three-pointer by Tomas Kyzlink to make it 30:17, the hosts allowed sloppiness in the defence, which the Hamburg Towers took advantage of. The game went into halftime tied at 38:38.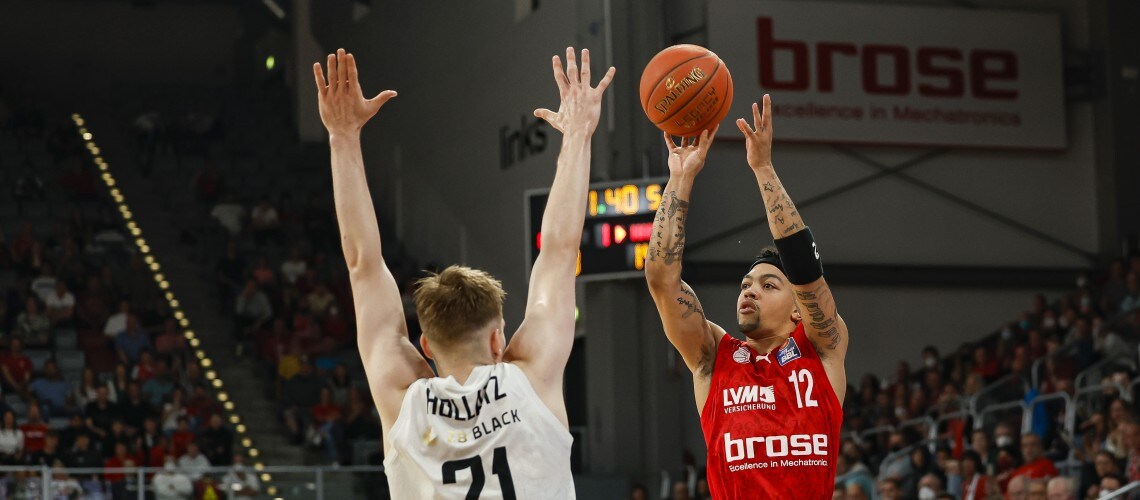 Head coach Oren Amiel found the right words before the third quarter, because his Bamberg players came back onto the field highly concentrated. After three minutes of back and forth to 43:42, the home side shifted up several gears, especially Omar Prewitt showed his best defensive performance of the season. The American contributed six points to the 12:0 run. Tomaz Kyzlink scored seven of his 12 points in the third quarter. Bamberg only allowed the Hamburg Towers five points in the third, the fans were already celebrating the 65:47 after 30 minutes. In the final quarter, the guests came back to within nine points (71:62). But Omar Prewitt sank a distance throw in return and added a free throw for 75:62. After 40 minutes, the game was decided: Brose Bamberg deservedly emerged victorious with 77:67.
Oren Amiel (Head Coach Brose Bamberg): "What can I say? When I look at where we were a few months ago and where we are now... We won against one of the hardest BBL teams to play. We managed to match their physicality and aggressiveness for long stretches. In the end, only the result counts for me. I don't care who was good or not so good. We were able to give something back to our fans today, which they more than deserved. I'm incredibly proud!"
Bamberg's first two quarter-final matches against German champions Alba Berlin will take place on Friday, 11.05.2022, and Sunday, 13.05.2022.