Munich
Basketball Bundesliga: Brose Bamberg loses to FC Bayern Munich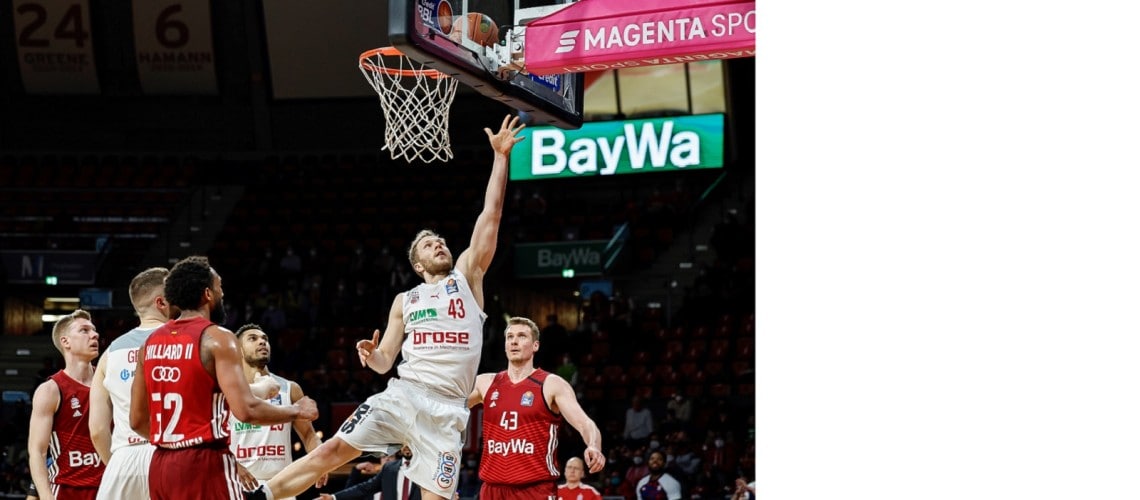 Munich , 03-06-2022
Brose Bamberg could only keep up with Bundesliga leaders FC Bayern Munich for one half. After the loss of Kenneth Ogbe in the middle of the second half, the Munich team took the lead. Bamberg went home again with 62:83 in their luggage.
After a two-month break due to injury, Kenneth Ogbe was back on the Bamberg side. Despite a three-week break from the game, the Amiel team got into the game quickly and showed an appealing performance on the defensive end. However, as the Bamberg team failed to make use of five attacks due to ball losses, they were trailing 16:20 after the first quarter.
In the second ten minutes, Oren Amiel's team showed itself from its best side and was able to take the lead again with 35:34.
After the change of ends, the Munich team tightened up defensively and offensively. Nevertheless, Christian Sengfelder managed to reduce the deficit to 41:45. Kenneth Ogbe showed a strong fighting spirit in his comeback, but twisted his ankle and had to leave the Audi Dome on crutches. The Bamberg team now had no chance against the Bavarians, who were defending better and better. The deficit grew to twenty-one points by the end of the quarter (62:83).
Oren Amiel (Head Coach Brose Bamberg): "All the best to Coach Trinchieri. The story of the game is quickly told: we were better in the first half than I expected before the game and than you could expect after our long break. In the second half, Munich increased their intensity and showed why they are rightly among the top teams in the EuroLeague. I wish them good luck for that. We are now concentrating on our game on Tuesday."
The next game is already scheduled for Tuesday, 08.03.2022: Brose Bamberg will welcome the EWE Baskets from Oldenburg.