Bamberg
Basketball Bundesliga: Brose Bamberg plays strongly for three quarters, but still loses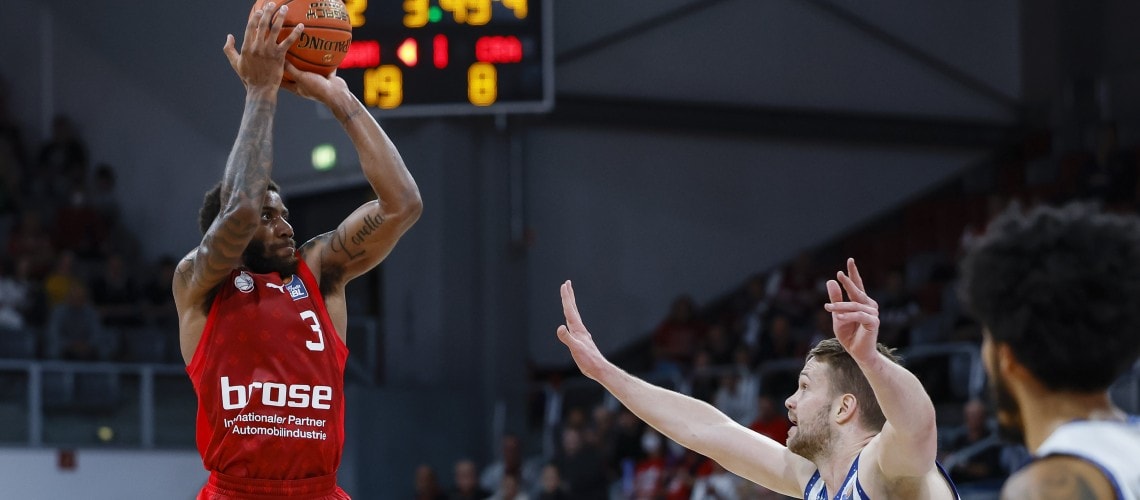 Bamberg, 10-08-2022
Three strong quarters plus improved throwing rates are not enough against a well-rehearsed semifinalist. Brose Bamberg's boys lost 76-84 at Telekom Baskets Bonn on Saturday night because they lost too many balls against the Rhinelanders.
The gameplan of the Bambergers had worked out in the first half. The guests were able to almost completely shut down Bonn's playmaker TJ Shorts with a very concentrated defense. In addition, the Bamberg team showed great offensive versatility, especially from the two-point range, scoring ten goals on twelve shots before the break. The 6:6 start was followed by a three-pointer from Kevin Wohlrath at 12:8, after Wohlrath's second three-pointer at 25:22, captain Christian Sengfelder turned up the heat and netted a three-pointer and a basket, Amir Bell increased the lead to 40:30 with a basket, unfortunately the first and only double-digit lead.
Thanks to two offensive rebounds, Bonn was able to score in the third attempt by TJ Shorts - and that released energy in the home side. When Bonn's Jeremy Morgen bagged two threes in a row early in the fourth quarter to make it 55-70, it smelled like a clear Bamberg defeat. But Justin Wright-Foreman, Christian Sengfelder and Amir Bell kept Bamberg in the game, 70 seconds before the end the Amiel team was back to 76:81 after Sengfelder's third three-pointer.
Oren Amiel (Head Coach Brose Bamberg): "We played well for long stretches, but then had a phase that cost us the game. Once again it was the ball losses that we paid for in the end. That's something we have to learn: even if we don't have any rhythm in the offense, we can't keep losing the balls in the back. We won three quarters, but couldn't stop Bonn on that run. Even though it might sound strange, we are developing. Still, we have to learn to handle better the situations where the momentum is not on our side."
For more information, visit www.brosebamberg.de and www.easycredit-bbl.de.