Bamberg
Basketball Bundesliga: Brose Bamberg says goodbye to summer break with victory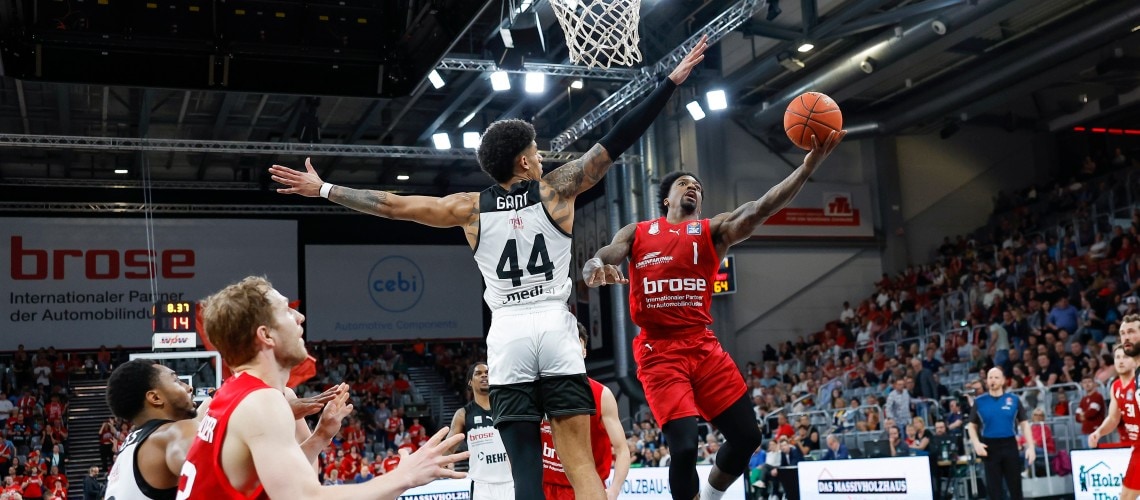 Bamberg, 05-07-2023
In the end, only one win was missing for the playoffs! Brose Bamberg said goodbye to the summer break after the 120-106 offensive spectacle against medi Bayreuth, the tenth place in the table of the main round with a 15-19 record means the first long summer without playoff basketball in Bamberg in 21 years.
One more win - and there were many games during the season that coach Oren Amiel's boys still gave away after leading in the final quarter - would have been enough for eighth place and playoff qualification.
Bottom of the table and relegated medi Bayreuth scored 106 points in Bamberg's Brose Arena, the fifth "hundred" the Amiel boys have conceded in the last seven games. In the last Bundesliga Upper Franconia derby for the time being, both teams impressed with an almost non-existent defense, the duel degenerated into an offensive spectacle like an "All-Star Game". Until halftime, an exchange of blows developed in which the lead changed with every attack. From a 10:7 lead to a 21:25 deficit, everything was already there in the first quarter, midway through the second quarter Bamberg slightly pulled away to 44:37, only to be behind again 56:58 due to a 0:8 run and then to lead again 63:68 with a 7:0 run. Halftime score 65:63, a record score at the break. In the third quarter, Bamberg tightened its grip at the back for a few minutes, then defended the 88:76 lead superiorly until the end. Top scorer was - as so often - playmaker Patrick Miller. Without the re-signing in mid-November, the season would have ended even worse. The 26-year-old point guard was wayward in the final quarter, but said goodbye to Bamberg with his Bundesliga record 26 points. Shooting guard Spencer Reaves, who came from the second division before the season, was in no way inferior to Miller: the American hit five of his six three-point attempts, and his 18 points were also his Bundesliga best. And the two German key players Christian Sengfelder and Patrick Heckmann also made a strong game offensively: Captain Sengfelder grabbed ten rebounds in addition to 18 points, Heckmann netted all nine throws, five from the field, four free throws for 16 points.
Oren Amiel: "No question, we are very disappointed despite the win. We missed the playoffs, that's our own responsibility. The fans deserved more. I feel very bad, it was a very educational season for me."