Frankfurt
Basketball Bundesliga: Brose Bamberg sniffs playoff places again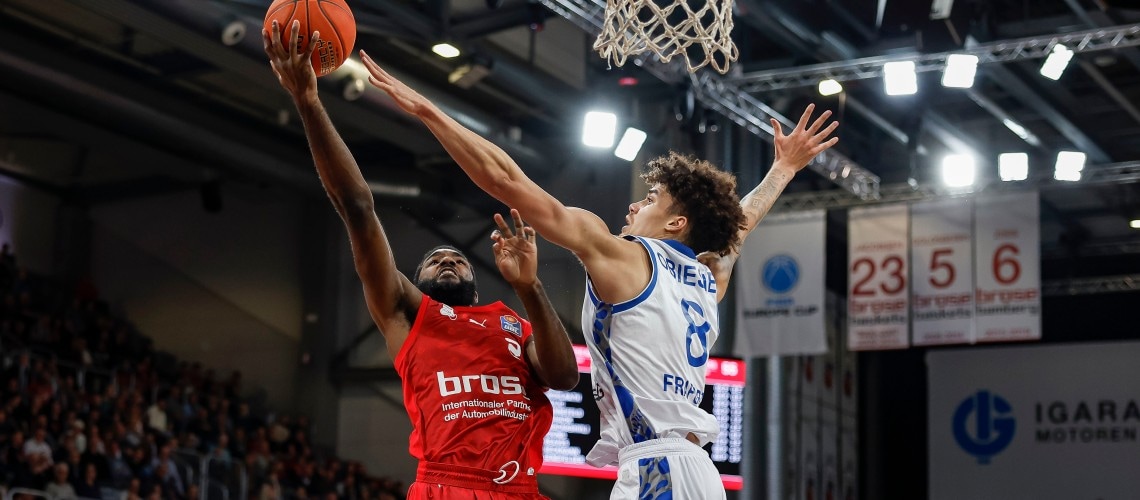 Frankfurt, 02-12-2023
That was a commanding away victory! Brose Bamberg returned from Frankfurt with a 100-83 win in its luggage. Right from the start, the Amiel team gave the relegation-threatened Fraport Skyliners no chance with a committed defense. Thus, Amiel's team has come close to the playoff places again and can draw level with the Swabians in terms of victories already on Tuesday with a home win in the match against Ulm, who are eighth in the table.
Concentrated from the beginning, so presented the Bamberg in the Frankfurt Ballsporthalle on Sunday afternoon. Although the Hessians took a 5:8 lead, an 11:0 run with points from Patrick Miller and three threes from Christian Sengfelder, Jaromír Bohačík and Spencer Reaves immediately put Bamberg ahead of the home side. With five successful threes in six attempts, Bamberg was very reliable, especially from distance. Kevin Wohlrath increased the lead to double digits for the first time after eight minutes, which Bamberg extended with a strong offensive performance over the quarter-end score of 28:15 to 51:29 after 18 minutes. In the second quarter, Bamberg scored mainly in the zone, with top scorer Patrick Miller repeatedly passing Frankfurt's playmakers and finishing with 13 points in the first half via a basket.
Immediately after the change of ends, Frankfurt shortened the gap to 43:56 with a 0:8 run. And just at that moment, Bamberg let the reins slip again, and with three three-pointers, among other things, the home side came back to 72:63. But Bamberg made everything clear with a quarter-long 8:0 run to 80:63, every Frankfurt point was now immediately countered with their own. Amir Bell took a distance throw for a 22-point lead, and the game was already decided six minutes before the end. Patrick Heckmann completed the 100 points with his third three-pointer.
Oren Amiel (Head Coach Brose Bamberg): "We started the game very well and immediately built up the confidence to hit tough shots. Even in phases when Frankfurt came back, we stayed calm and played our game. For us it was an important game to keep the connection to the playoffs."
Already on Tuesday, February 14, 2023, Brose Bamberg wants to take revenge for the painful 87-107 defeat against Ratiopharm Ulm two weeks ago at its home Brose Arena. Jump is at
For more information, visit www.brosebamberg.de and www.easycredit-bbl.de.