Bamberg
Basketball Bundesliga: Brose Bamberg suffers avoidable home defeat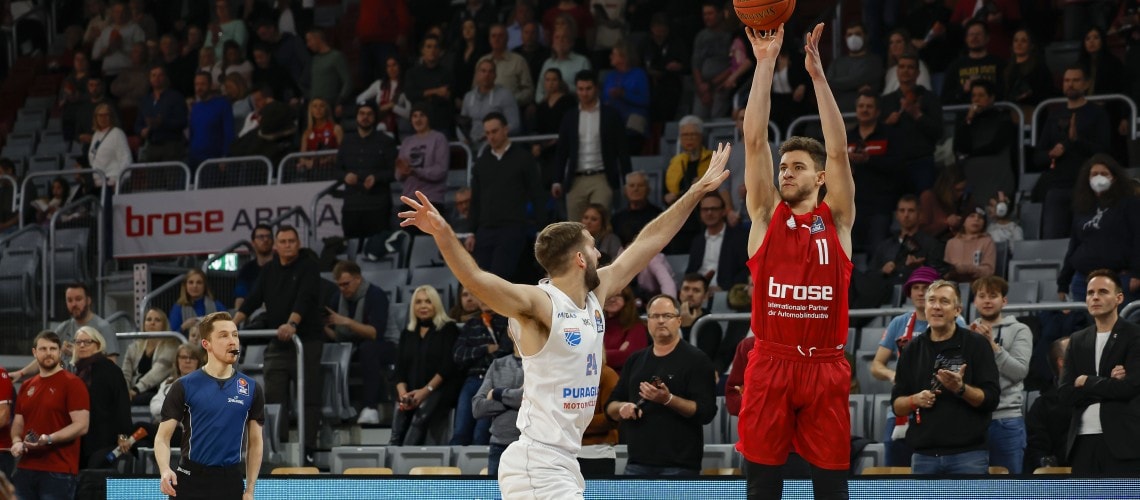 Bamberg, 12-11-2022
After eleven days without a game, Brose Bamberg's winning streak has been snapped! Coach Oren Amiel's team was unbeaten in the Bundesliga and in the FIBA Europe Cup for five games in a row, but against Mitteldeutsche BC the home side managed almost nothing, especially in the third quarter, resulting in a 90-98 defeat.
In the first seven minutes, it looked as if Bamberg would be able to cope well with the absence of playmaker Patrick Miller: Center Solomon Young scored twice from distance, Kevin Wohlrath nailed a three-pointer, Patrick Heckmann added a layup and captain Christian Sengfelder took a close-range shot for 20:10, Bamberg's highest lead.
12 of 14 Weissenfels throws went through the Bamberg basket, 35 points in the third quarter! Bamberg's offensive game, on the other hand, was very tough. Sufferer was Christian Sengfelder: just Miller fed the captain last with many passes and Sengfelder completed. Against the MBC, he had to work out his own throws and was unlucky with only one hit on six throws. Especially under the basket, the Bamberg team should have been more concentrated: eleven supposedly easy baskets were missed by the Bamberg team until the 33rd minute, by which time the MBC had pulled away to 65:87. Thanks to top scorer Kevin Wohlrath and Gabriel Chachashvili, the home side came back to 88-95 with one minute to go, but in turn the MBC put the lid on with three points.
Oren Amiel (head coach Brose Bamberg): "At the end of the day, there are two ways for us: Looking for excuses and pointing the finger at others. Or understand that in three days we have the next chance to forget the game. Therefore: now the preparation for Oradea starts."
On Wednesday, December 14, 2022, Amiel's team will play its first group game in the FIBA Europe Cup Intermediate Round: starting at 8 p.m., CSM CSU Oradea will be the guests at Brose Arena.
For more information, visit www.brosebamberg.de and www.easycredit-bbl.de.