Rostock
Basketball Bundesliga: Brose Bamberg wins first Bundesliga game of the season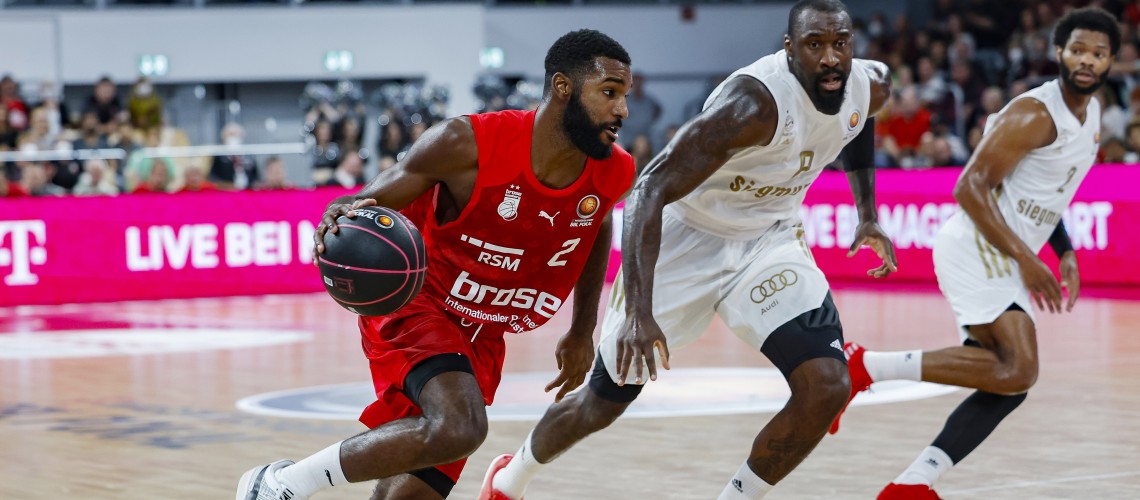 Rostock, 11-06-2022
Here it is at last, the first win of the 2022/23 Bundesliga season! With 97:86 Brose Bamberg beats the previous surprise team of the Rostock Seawolves away from home and now goes with self-confidence into an almost 14-day international break.
The Amiel team did not underestimate the home side: with strong defense, the Bamberg team hardly allowed any free throws and managed to pull away to a double-digit lead thanks to five threes of their own just before the end of the first quarter. However, after Patrick Heckmann's four-point play to make it 28:14, Rostock woke up and attacked Bamberg with a move to the basket. The home side scored 26 points from free throws on 34 attempts, while Bamberg was only awarded 23 free throws by the referees in the game. A narrow 47:49 deficit at the break was the result.
Bamberg was not discouraged even by the 49:55 after the change of ends. Kevin Wohlrath played his best game in his Bundesliga career, the 27-year-old netted three threes three times and the 61:61 score released Bamberg's energy. At the end of the quarter, top scorer Solomon Young slammed home a thunderous dunk to make it 72:69, and the Bamberg team, which had improved all around, never relinquished the lead again despite 4480 home fans. On the contrary - in the final quarter, the Bamberg team continuously extended the lead, which was well deserved. More rebounds and more assists than Rostock, only eight ball losses. After the game, Brose Bamberg also announced the signing of Bundesliga-experienced playmaker Patrick Miller until the end of the season.
Oren Amiel (Head Coach Brose Bamberg): "We played with a lot of self-confidence despite the lines lately. A couple of guys led the way today, especially Kevin Wohlrath and Solomon Young. We played against the best offensive team to date and defended well."
It's back on the floor for Brose Bamberg on Saturday, November 19, 2022. Jump is at 8:30 p.m. against the second-to-last team in the standings, Fraport Skyliners Frankfurt.
For more information, visit www.brosebamberg.de and www.easycredit-bbl.de.