Bamberg
Basketball Bundesliga: Brose Bamberg wins in overtime thriller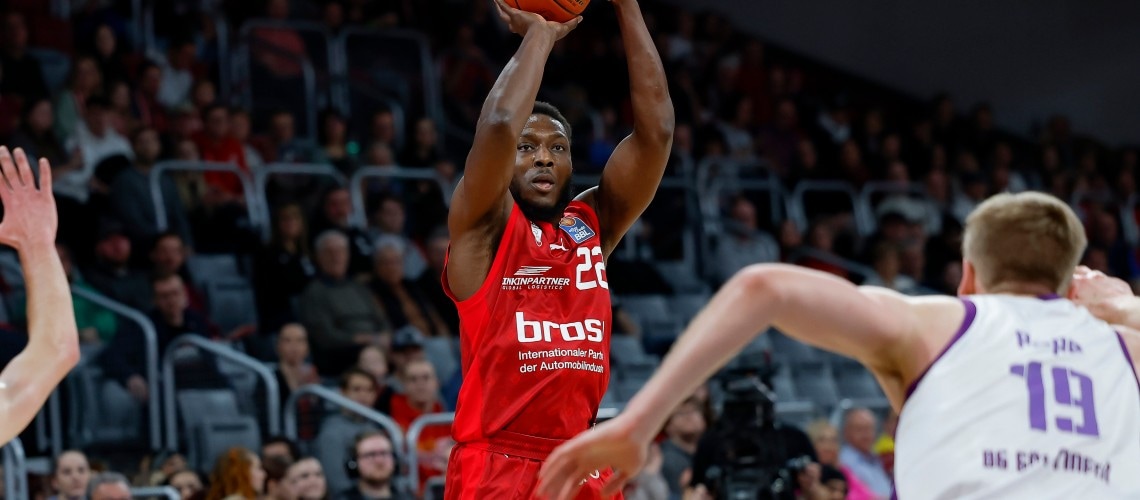 Bamberg , 02-05-2023
This was one of Brose Bamberg's most entertaining, transformative and exciting games at the Brose Arena! With the 95-92 victory over BG Göttingen after overtime, the Amiel ended their three-game losing streak in the Bundesliga, but had to fight hard for more than 45 minutes against the Lower Saxons. Z
In the first quarter there was still cautious feeling out, Göttingen took a 9:14 lead after a 0:6 run and Bamberg countered that with Simmons three-pointer and Wohlrath basket to make it 19:17, went into quarter two with a 25:24 lead. And there Bamberg seemed to have found its game, fast forward via point guard Patrick Miller, Gerel Simmons' second three-pointer, two baskets by Miller and a 40:32 lead after a 7:0 run, 44:36 after two nice throws by Spencer Reaves. But all of a sudden Bamberg couldn't come up with anything offensively and the mistakes piled up. 0:9 to 44:45, Göttingen turned the game around and even went into the dressing room with a two-point lead.
The team from Lower Saxony went on a 0:13 run throughout the half, and at 46:58 and later at 50:62 the Bamberg crowd started to whistle. Thanks to Patrick Heckmann and Spencer Reaves, Bamberg pulled back to 59:67 by the end of the quarter. And it followed the best phase of the Bamberg: with 15:0 the Amiel boys suddenly rolled over the Lower Saxons, Reaves and Christian Sengfelder sank the three-pointers, Gabriel Chachashvili increased after offensive rebound to 74:69, Reaves completed the next 6:0 run with a three-pointer to 80:71 four minutes before the end. Bamberg seemed to be on the winning track - and then surprisingly the thread broke again. Bamberg had nine attacks until the end of the quarter, five ended in missed shots, four with ball loss, only one free throw could the Amiel team bring through, 81:81, overtime. Then top scorer Patrick Miller and Solomon Young turned up the heat and ensured with a 7:0 run to 91:85 that Bamberg happily carried over the time in the end.
Oren Amiel (head coach Brose Bamberg): "It's easier to play when you have an atmosphere like today. It pushed us tremendously in our bad phase and gave us the belief that we can come back. I saw the body language of my players when we were down. They didn't give up and always believed in themselves."
On Sunday, February 12, 2023, Brose Bamberg will be challenged away at Fraport Skyliners Frankfurt, Jump is at 3 pm. Bamberg won the first leg against the relegation-threatened Hesse 100:83.
For more information, visit www.brosebamberg.de and www.easycredit-bbl.de.