Frankfurt
Basketball Bundesliga: medi bayreuth loses in Frankfurt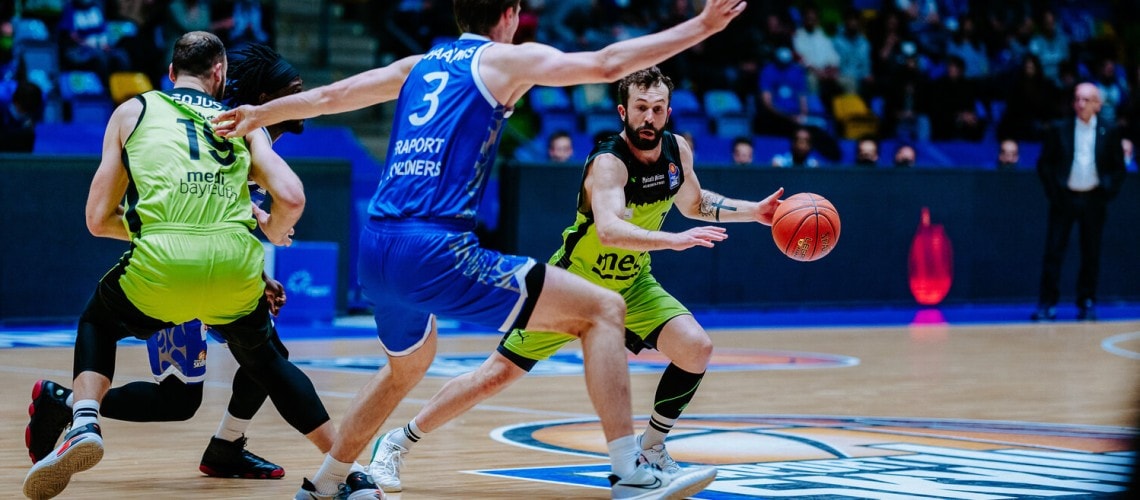 Frankfurt, 05-01-2022
The easyCredit Basketball Bundesliga season is over for medi bayreuth. Of course, Head Coach Raoul Korner's team would have liked another win at the end, but the 13th game after the international break was also lost. In front of 3,440 spectators, Head Coach Raoul Korner's team lost to the Skyliners 70:82 on Sunday afternoon in the FRAPORT Arena.
The first quarter of the last game of the season was a real offensive firework. Both teams scored at a high percentage from the three-point line and accordingly the score was even at 27:27 after the first ten minutes. The Frankfurt team continued to score successfully in the second period and was able to build up a lead. However, the scoring rate on the part of the guests now dropped and brought Head Coach Raoul Korner's team a 39:48 deficit at the break.
In the third quarter, Head Coach Raoul Korner's team improved - especially in defence - and came within one point (56:57). The Hessians, however, were not impressed by medi's chase to catch up and could still call the lead (60:56) their own after 30 minutes. The last ten minutes of this season and this game were emblematic of the course of the last few games: Head Coach Raoul Korner's team fought, but ultimately failed due to their own many mistakes and ultimately had to admit defeat to the Fraport Skyliners with 70:82.
"Congratulations to Frankfurt. For us, it is of course very disappointing how the season ends. We didn't manage to get going after the national team break. We tried everything, but we didn't manage to make the games successful any more. I'm very happy that we didn't get relegated despite all the setbacks. Secondly, you have to give credit to the team for never giving up. And thirdly, what sticks in my mind from the season is that the support of our fans was incredible. I think they know how to put this season in perspective. That's not something you can take for granted and it's what sets Bayreuth apart," Head Coach Raoul Korner commented on the game.
Source: www.medi-bayreuth.de