Berlin
Basketball Playoffs: Brose Bamberg fails in Berlin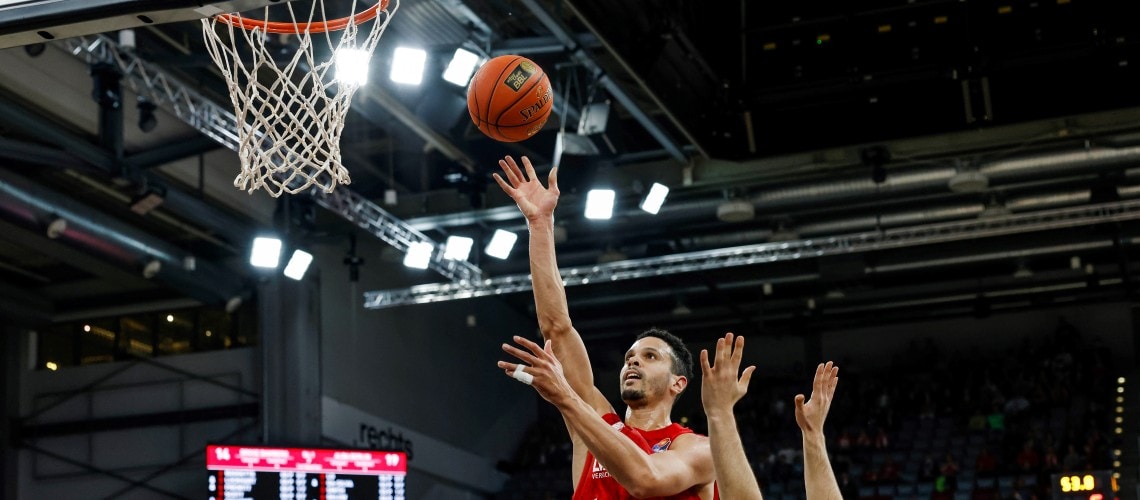 Berlin, 05-15-2022
After an 89-114 defeat on Friday, the Amiel team showed fighting spirit on Sunday evening, did not give up after a 22-point deficit and came back to within eight points. Nevertheless, the hosts decided the game in their favour with 85-97. On Thursday, 19.05.2022, Brose Bamberg will have to win against German champions Alba Berlin at their home Brose Arena from 19.00 to force a fourth play-off quarter-final match.
On Sunday evening, the second quarter-final match was played in the Max-Schmeling-Halle. In the first fifteen minutes, the game looked like a "private duel" between Chris Dowe and the Berliners. The American playmaker scored 14 of Bamberg's 15 points. Dowe single-handedly made up a 2:9 deficit, hit the basket after three free throws and a three-pointer to make it 10:9 within 35 seconds. But as the Berliners successfully narrowed Christian Sengfelder's circles for the second game in a row and the centres Akil Mitchell and Martinas Geben went cold, the hosts pulled away to 29:45. Martinas Geben indicated his will with the break siren and his strong basket at 34:47.
Shortly after the break, Akil Mitchell got his second unsportsmanlike foul after losing the ball and was disqualified, Berlin took advantage of the free throws and possession to lead 38:60. But with the highest deficit and their backs to the wall, Bamberg started to catch up: Under the basket, top scorer Martinas Geben asserted himself again and again and kept Bamberg in the game with eleven points in the phase (51:69). Omar Prewitt and Tomas Kyzlink reduced the deficit to eleven points at the end of the quarter (63:74). Martinas Geben and Justin Robinson scored to make it 66-76, but Bamberg could not get any closer.
Oren Amiel (Head Coach Brose Bamberg): "The point difference in the first game shows that Alba were superior to us in all areas. We scored almost 90 points ourselves against one of the best defence teams in Europe. But we didn't have the right mental attitude. Sunday we showed a reaction to the first game. We lost. But we showed a reaction, the guys took it personally. After being down by more than 20 points, we didn't give up and fought our way back. That is very important for us."