Braunschweig
Basketball: Serious setback in medi bayreuth's relegation battle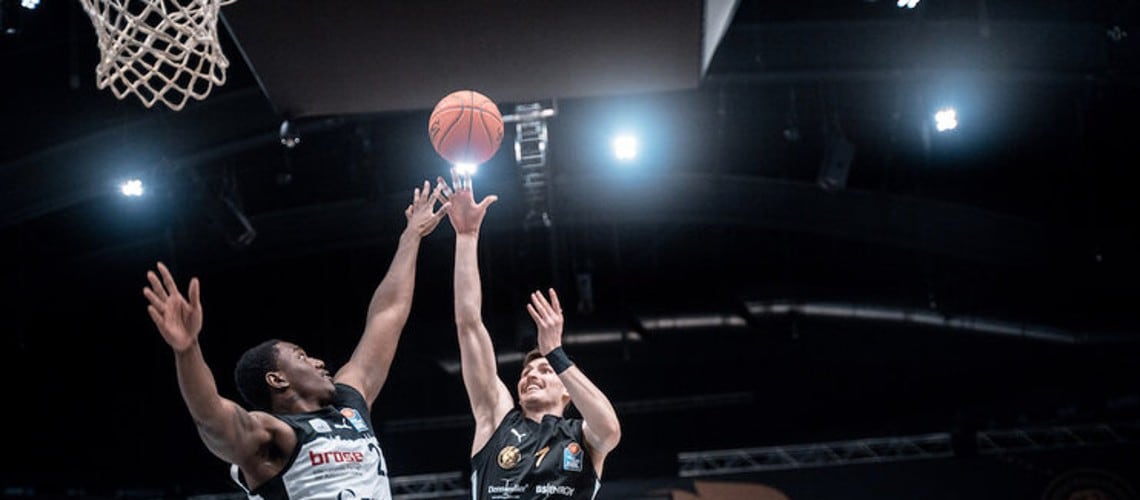 Braunschweig, 04-08-2023
medi bayreuth suffered a severe setback in their fight against relegation on the 27th matchday of the easyCredit Basketball Bundesliga. The Bayreuth team lost 89:101 to sixteenth-placed Basketball Löwen Braunschweig in front of 3,029 spectators at the Volkswagen Halle on Holy Saturday.
The start of the game was somewhat nervous. Many mistakes were made at the beginning, especially in defence, where serious gaps opened up under the basket, which the opponents exploited ice-cold. But also in the attack, the passing was often not right. Through a 5:0 run, the Lions were able to pull away to 13:5. As the game progressed, Head Coach Mladen Drijencic's team looked more confident, but it was still the Braunschweig team that set the pace and won the first quarter 25:19.
In the second session, medi's offensive performance improved, but the Lions still had an easy game under the Bayreuth basket, as the agreement in the defence was often not right. When ex-Bayreuth player Robin Amaize hit a successful three-pointer to make it 39:32, medi Head Coach Mladen Drijencic found it too much and called time-out. From then on, his team was more compact under the basket and looked more concentrated. Again and again, medi came close to the Lions, but every attempt to catch up was quickly stopped by the Braunschweig team. Nevertheless, they won the quarter with 27:24 and managed to keep the deficit close at halftime with 46:49, so that everything was still possible.
After half-time, the team from Lower Saxony pulled away to 57:46. Even a time-out by Head Coach Mladen Drijencic could not change much, because his team was mainly at fault with itself, so that the Löwen lead even grew to 76:60. Thanks to an 8:0 run at the end of the third quarter, medi "only" trailed 68:76 after 30 minutes.
However, the lead of the Lower Saxons quickly grew again, because medi often acted very unfortunate, especially in the team play, forced too many individual actions and left too many free spaces for the opponent under the basket. In the end, medi deserved to lose the game against the Basketball Löwen Braunschweig with 89:101 and remain winless in foreign halls this season.
Mladen Drijencic: "Today, that was not the basketball we want to show and with which we want to stay in the Bundesliga. The numbers don't look bad, but defensively we had a lot of problems. It's getting harder for us now, but we look from game to game and I hope our players understand which way to win."
In the upcoming game, medi bayreuth will face what is certainly the strongest team this season, Telekom Baskets Bonn. Head Coach Mladen Drijencic's boys will have to play there next Saturday, 15 April, in the course of the 28th matchday. Jump in the Telekom Dome is at 6:00 pm.