Bayreuth
Basketball: Uni Baskets Münster too strong for BBC Bayreuth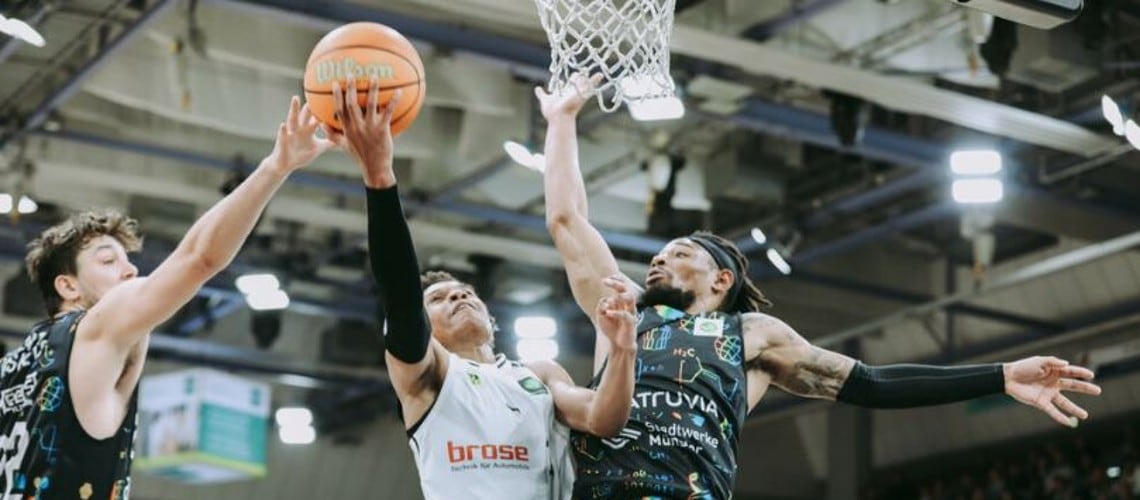 Bayreuth, 11-05-2023
BBC Bayreuth suffered its first home defeat of the season in the 2nd German Basketball League Pro A with an 86:89 loss to Uni Baskets Münster Sunday afternoon.
The BBC started with Moritz Plescher, Selim Fofana, Aaron Carver, Kristian Sjolund and Lenny Liedtke against Münster, who had one more win than the home side before the encounter. Bayreuth began with two threes from Lenny Liedtke and Kristian Sjolund, followed by another bucket from beyond the arc by Aaron Carver to make it 13:4 after just under four minutes. The visitors then worked their way back to 15:16 and Bayreuth lost the thread. Adam Touray put Münster 17:16 ahead for the first time with two free throws. However, the visitors continued their run and led 24:16 and were 26:19 in front at the break.
Oliver Pahnke gave the Uni Baskets a double-digit lead for the first time with a three. It was 35:21 after just under twelve minutes, after which the visitors stretched the gap to 37:21. Lenny Liedtke cut the deficit to 24:37 with a three-pointer and Bayreuth pulled a little closer again. After two free throws by Shane Gatling, the score was only 28:38 and 33:42 on the scoreboard with just under three minutes to go before half-time. Münster then pulled away again to make it 50:35 with just over one-and-a-half minutes remaining in the quarter. A four-point play by Shane Gatling ensured that the deficit was back to single digits. Münster went in at half-time 52:41 in front.
Marios Giotis cut Bayreuth's deficit to 44:52 with a three at the start of the third quarter and Kristian Sjolund reduced it further to 46:52, before Moritz Plescher from beyond the arc and Selim Fofana completed Bayreuth's 10:0 run in front of 2,041 spectators. Münster then woke up and pulled 58:51 ahead again. The visitors were 70:62 in front after 30 minutes.
Bayreuth also began the final quarter with a small run. However, Münster was not deterred, struck back and took a clearer lead again at 75:67. The BBC then closed the gap to 81:85. Mladen Drijencic called a timeout with 108 seconds remaining. Shane Gatling was now on fire and first reduced the deficit to 83:85 and then cut it to 86:87 with a three after another bucket by Münster. Jasper Günther was then fouled while attempting a three. However, he only hit two of his three free throws with 38 seconds remaining - 89:86 in favour of Münster. Marco Rahn finally drained the three-pointer in overtime and the visitors won 89:86 to claim their fifth victory in a row. The BBC now has three wins and four defeats to its name after seven games.
BBC Bayreuth's next game is at Dresden Titans on Saturday, 18 November.