Coburg
BBC's fifth win in a row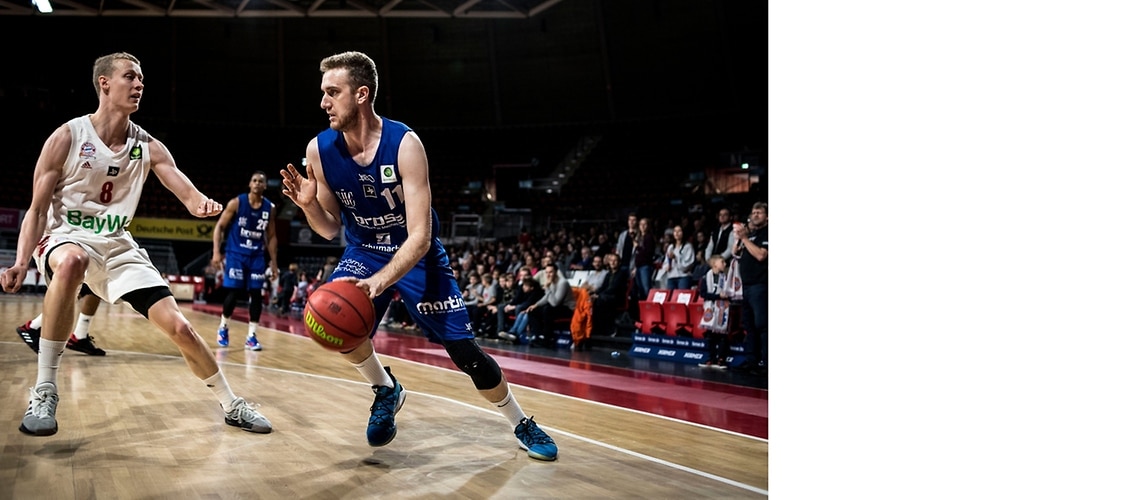 Coburg, 11-17-2019
A gala display of basketball in the BARMER ProB South 2nd German Basketball League: BBC Coburg defeated Depant GIESSEN 46ers Rackelos by 101:78 (58:34) with an almost flawless performance in the HUK-COBURG arena in which the visitors from Central Hesse did not have the hint of a chance.
Coburg produced a 6:0 run right from the tip-off. After a little more than two minutes, the BBC had already built a double-digit lead (12:2), forcing Gießen to call its first timeout. Sven Lorber was unstoppable in this spell, chalking up ten points. Shortly after that, captain Christopher Wolf stretched the gap to 19:5 in the 5th minute with a thunderous slam-dunk, by which time it was clear that the BBC would simply be unbeatable on the afternoon. Daniel Urbano made a buzzer-beater to make it 31:13 and bring the first period to a close.
The 769 spectators at the Lauterer Höhe hardly had any break from celebrating in the second quarter: Shore Adenekan smashed an attempted lay-up by Leon Okpara into the crowd. Youngster Johannes Krug gave his side its first 20-point lead with a bucket from downtown (39:19´in the 14th minute). Christopher Wolf added two more threes. And to crown it all, there was a perfect alley-oop from Princeton Onwas and Adenekan. Timo Dippold's lay-up in the very last fraction of a second before the break to make the score 58:34 almost went unnoticed.
It seemed that both teams had already settled for the result at that time. Constantin Ebert was recalled to the bench after his fourth foul early on in the third period, but Nico Wenzl and Lorber kept up the pace: A bucket from beyond the arc and a steal followed by a lay-up by the guard made it 74:50 in the 27th minute. Shortly after that, there was a small moment of shock when Gießen's Leon Okpara was struck by the elbow of his teammate Hannes Osterwalder and he had to be taken to Coburg Hospital for his cut to be stitched.
The club from Hesse continued to lack any incision on court. Johannes Lischka and his teammates were visibly making an effort, but the BBC now had the game completely in its grip: Wolf and Krug added threes in the final period, while the outstanding Princeton Onwas impressed as a scorer, as well as with his rebounds and assists, and in the end was able to celebrate his side's fifth straight victory together with the wildly cheering crowd.
"You can't get any better," said a delighted Ulf Schabacker, the BBC's head Coach, only to correct himself right away: "Well, of course, it could have it have better: We lost the second half by one point." With a huge grin on his face, Schabacker then expressed his delight at his team's fine performance: "The first half was phenomenal. You could see that our Bayreuth players trained often with us again this week. Our team is making advances and you saw the result today."