Braunschweig
BBL Cup: Title-holders Brose Bamberg win in Braunschweig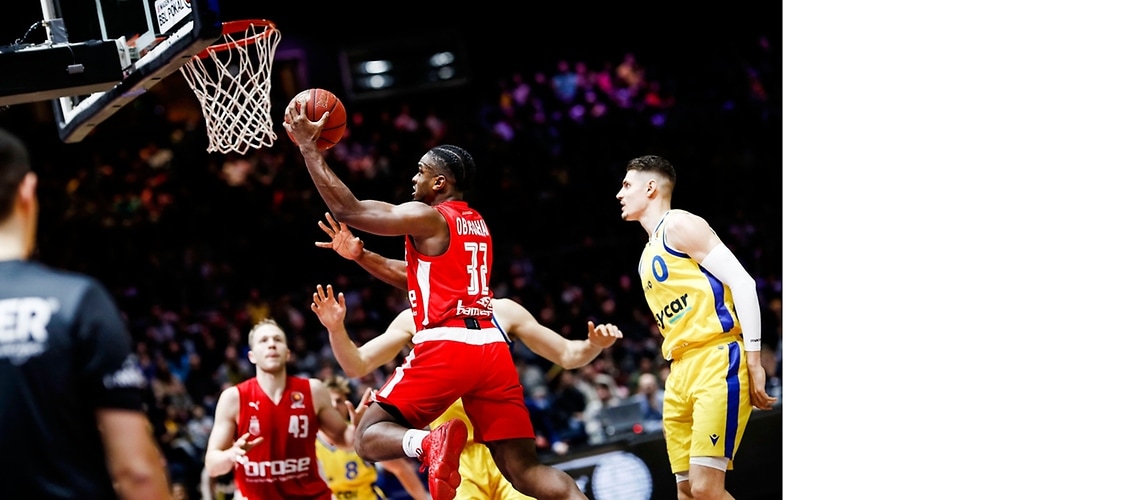 Braunschweig, 12-14-2019
Brose Bamberg has ended its run of four games without victory with an 80:69 win on the road at Basketball Lions Braunschweig. In the quarter-finals of the cup, the team of Head Coach Roel Moors played with focus in the game's decisive spell and kept the club from Lower Saxony at arm's length with cleverly carved-out buckets. The reigning cup winners will now meet Alba Berlin in the semi-final in the Brose Arena on January 12, 2020.
Kameron Taylor returned for Bamberg after recovering from his shoulder injury. Roel Moors put the America in the starting five and Taylor, who was still circumspect in his play, made four points and two great passes in 12 minutes. Braunschweig pulled off a surprise by signing the former Bamberg player Lucca Staiger, who arrived in Lower Saxony just 24 hours before the encounter. Bamberg found it tough going in offense to begin with and trailed by 4:9 after six minutes. However, Christian Sengfelder and Retin Obasohan, who would both finish as top scorers, turned the game around in the space of two minutes: from 8:11 to 16:13 at the end of the first period. Kameron Taylor stretched the gap to 25:20 with two lay-ups midway through the second quarter. Yet Bamberg had problems with its shooting from beyond the arc and managed just 2 out of 16 before the break – only Bryce Taylor made two before the break to add six important points (38:28).
After Assem Marei increased the lead to 40:28 right after the restart, Moors' team then went minutes without scoring. Braunschweig closed the gap point by point, while playmaker Paris Lee was too nervous in attack, did not play good passes or shot hastily. As a result, Bamberg slipped 42:43 behind, forcing Roel Moors to take Lee off and bring Retin Obasohan back on as playmaker. The Belgian injected calm into the game, himself made a lay-up, and brilliantly set up Bryce Taylor (12 points) to score his fourth three. That meant Bamberg had again built a ten-point cushion (56:46) in the space of two minutes. Although Lucca Staiger turned on the heat in the final period and drained four buckets from outside and a lay-up for Braunschweig, Bamberg kept its grip this time. Top scorer and former Braunschweig player Christian Sengfelder countered Staiger's buckets from downtown that made it 64:68 and 67:71 with a three of his own, while Assem Marei (12 points) and Retin Obasohan (15) buried their free throws to make it 67:76 and as good as seal victory with one minute remaining.
Brose Bamberg's Head Coach Roel Moors commented: "We were at a low point, so I'm happy at how we performed here in the cup. We were strong in defense and controlled the boards in the first half, despite the fact that Braunschweig is very good in the rebounding department. Today was our most consistent performance in all the recent games. Braunschweig came back, but after that one of my players repeatedly had strong moments. Chris Sengfelder, for example, always had a response to Lucca Staiger's threes. We turned in a good display."
Brose Bamberg now travels to Nizhny Novgorod on Tuesday, December 17, 2019, where it needs a win. Bamberg has lost two games in a row in the Champions League and so has dropped out of a playoff berth, while the Russian club has one win more and is two places higher. The encounter tips off at 5 p.m.
For more information visit www.brosebamberg.de, www.easycredit-bbl.de and http://www.championsleague.basketball/de.