Nymburk
Champions League: Bamberg starts international campaign with a defeat in Nymburk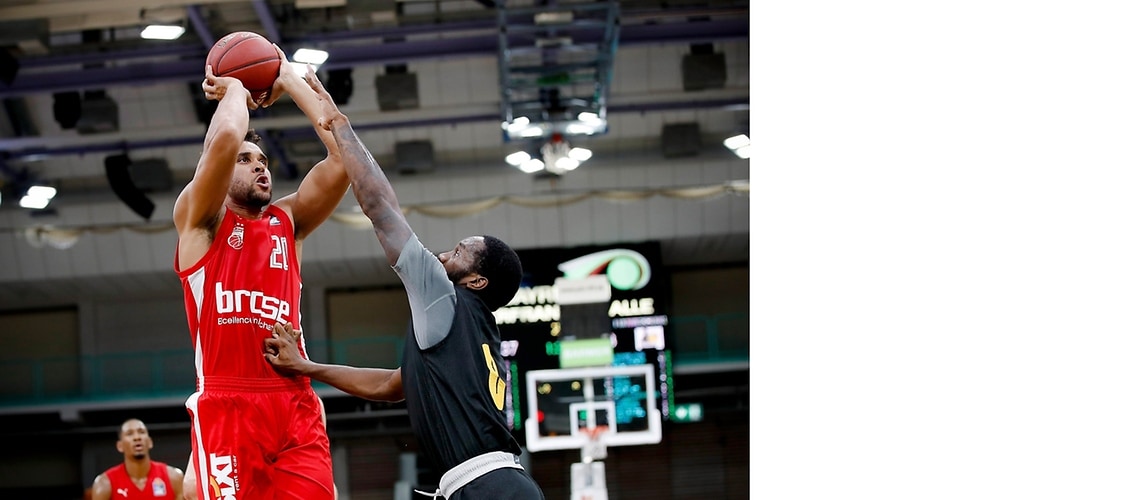 Nymburk, 10-16-2019
Brose Bamberg were sent packing from Prague, losing its opening game in the Champions League by 71:91. The team of Head Coach Roel Moors got off the worst imaginable start against ERA Nymburk and was no longer able to recover from trailing by 0:16.
Last season Brose Bamberg won away against Nymburk to lay the foundation for a winning streak that would take it to the Final Four. The newly formed team got into its stride too late this time in the opener in the new Champions League campaign. The closely-knit home side, which makes up most of the Czech national team and also has its Head Coach and was able to use the world championships to help it warm up for the season, simply drained every shot, while literally nothing went right for Bamberg. The visitors trailed 0:16 after four minutes, 4:24 after seven, and 11:30 at the end of the period. Nymburk was even able to pull 25 points ahead in the second quarter: 11:36 – Bamberg had rarely experienced such a sobering start in its long history. Yet it refused to bow to its fate after that, but instead fought hard to catch up: Christian Sengfelder drained a bucket from downtown, Bryce Taylor added two threes, and Paris Lee (11 points) likewise buried his second from beyond the arc to enable their side to reduce the deficit to 18 by half-time (34:52).
The visitors were able to close the gap point by point after the break and were finally tenacious in defense and quick and direct in attack. In particular Elias Harris (11 points) injected stability into Bamberg's play in this spell. And when Kameron Taylor (10 points) exploited his zippiness to add three lay-ups and six points in a row, Bamberg was back in touch by the end of the period (57:65). That would have likely been the turning point in the encounter, but it was then of all times that top scorer Bryce Taylor (16 points) suffered bad luck with two attempted threes in succession. Unfortunately, things went the way of the other side at the start of the final quarter: Nymburk was able to capitalize on an unsporting foul and add four points on a single attack to produce a run of eight points without reply and leave Bamberg 57:73 adrift with nine minutes remaining. After Taylor's fourth three, the deficit fluctuated between 12 and 16 points until shortly before the end – Bamberg was simply no longer able to catch up and finally went down by 71:91 after two bad passes.
Brose Bamberg's Head Coach Roel Moors commented: "One team went into the game with the right attitude, and that unfortunately wasn't us. We ensured Nymburk found its rhythm and built its confidence. One positive thing we can take away is that we fought back and displayed character. Despite 20 offensive rebounds, that wasn't enough for us. When you lose by 20 points, that's a warning that should give us food for thought. I hope it was the key experience for the rest of the Champions League season."
Bamberg now finally has its second home game of the season in the Brose Arena, when jobstairs Gießen 46ers visit on Saturday, October 19, 2019 (tip-off: 6 p.m.). It was able to win the encounter with the club from Hesse in the Round of 16 of the German cup by 72:66 just under three weeks ago.
For more information visit www.brosebamberg.de, www.easycredit-bbl.de and http://www.championsleague.basketball/de.