Bamberg
Champions League: Brose Bamberg strengthens its grip on top spot with third win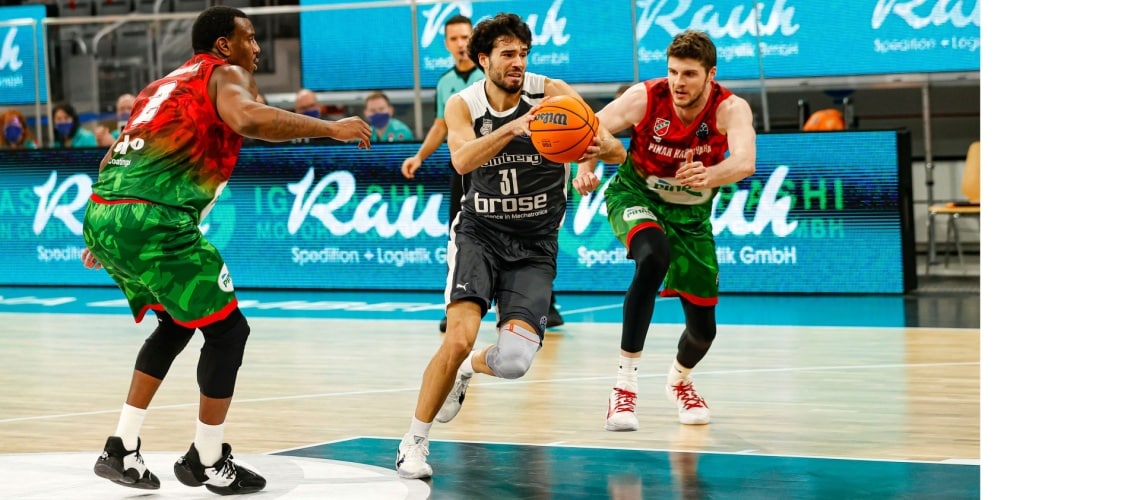 Bamberg, 12-08-2020
That was the best performance of the season so far from the newly formed Brose Bamberg team! In a true battle of nerves, the players of Head Coach Johann Roijakkers captured a narrow 83:82 home victory against a strong Pinar Karsiyaka team from Izmir. Bamberg's third win in a row in the Basketball Champions League means it is virtually sure to be the first team from Group F to qualify for the playoffs.
It was in particular Bamberg's Michele Vitali who put his stamp on the first period. The Italian had come under criticism from Roijakkers after the away win in Gießen, but he turned in a classy display from the outset and produced almost flawless shooting against the Turkish club. Vitali laid the foundation for his side's 26:20 lead at the end of the quarter with four buckets out of four attempts. Yet Pinar Karsiyaka with its strong individual players was not to be shaken off: The former Ulm player Raymar Morgan (25 points) repeatedly broke through Bamberg's defense and put the visitors 33:34 ahead at one stage. Bamberg put up stiff resistance, with Bennet Hundt adding two lay-ups and setting up Christian Sengfelder and Chase Fieler twice. However, Bamberg squandered its 43:36 advantage in the two minutes before half-time, as two missed shots and three turnovers allowed the visitors to slash the deficit to 43:42.
Karsiyaka's shooting from downtown was more accurate after the break: Whereas it had only drained one three-pointer up to then, it now scored four in the space of five minutes. Bamberg kept on hitting back, as either the strong playmaker Bennet Hundt (11 points) scored or set up Chase Fieler, who gave his side its highest lead (65:58) with his third and fourth buckets from beyond the arc. Karsiyaka then punished Bamberg's small mistakes, closing the gap to 77:76 with three minutes to go. Top scorers Chase Fieler and David Kravish (14 points apiece) and Bennet Hundt extended their side's lead, but Raymar Morgan replied right away to each of the three buckets to make it 83:82 shortly before the end. Since Michele Vitali missed Bamberg's final shot, Raymar Morgan again popped up below the home side's basket, but Chase Fieler mercilessly thwarted his shot with a strong block to give his side victory.
Johan Roijakkers commented: "We did a great job. It was an all-round team victory. Every player stepped up to the plate in specific phases and led by example. Sengfelder and Ogbe dominated the board, Hall scored, and Kravish was really good. I'd like to single out Bennet Hundt. He has to lead the team due to Tyler Larson's injury and he did that outstandingly in the crucial spell. At the end we were smart and were able to stop Karsiyaka four times, once with a great block."
Brose Bamberg faces one of the toughest challenges in the German league on the weekend, when Roijakkers team comes up against the German champions and cup winners Alba Berlin in the Mercedes Benz Arena on Sunday, December 13, 2020 (tip-off: 6 p.m.).