Riga
Champions League: Brose Bamberg wins on the road in Riga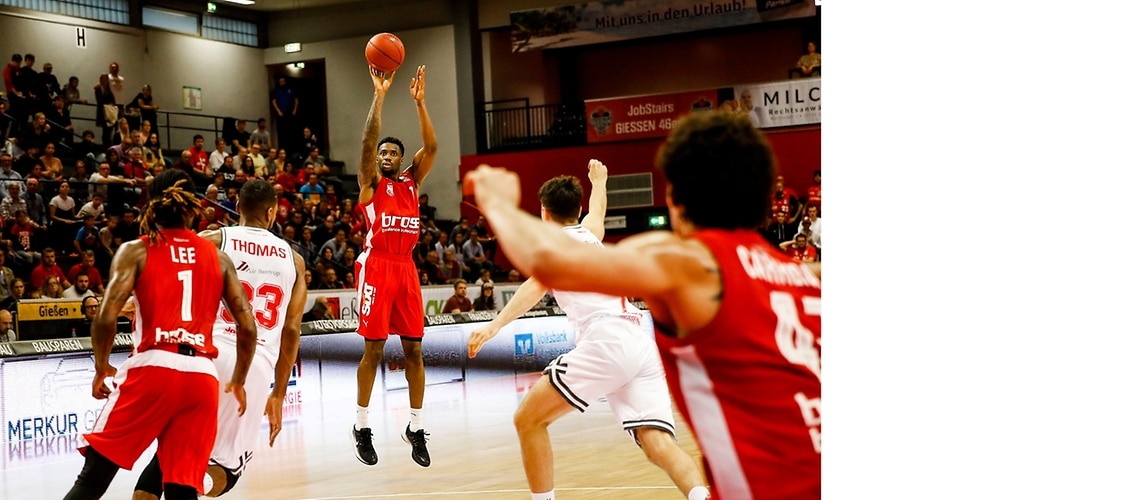 Riga, 11-13-2019
Thanks to a magnificent final period it took by 30:16, Brose Bamberg captured its third win on the 5th game day of the Champions League and is now third on points in the table. The 76:55 away victory in Riga was the sixth successive win by the team of Head Coach Roel Moors over all competitions and was proof of how well the new Bamberg team is gelling despite a checkered start.
Nevertheless, the visitors gifted the start away in front of just 200 spectators in the sparsely occupied 11,000-seat arena in Riga. Moors' players failed to score in the first four minutes, enabling Riga to pull 0:7 ahead. A steal by Assem Marei was the turning point: He then threw a long pass to Christian Sengfelder under the basket and he moved the ball out to playmaker Paris Lee, who drained the three to make it 3:7. Bamberg then defended very tightly, with the result that Riga no longer had any easy chances in offense, whereas Bamberg constantly produced good plays. Sengfelder, Marei, a bucket from downtown by Kameron Taylor and two lay-ups by Tre McLean – Bamberg came back from trailing 0:7 to lead 14:7 by the end of the first period. The home side produced a 10:2 run in the second quarter to move 17:16 in front. Yet Bamberg kept its focus and in particular center Assem Marei (12 points) repeatedly won tussles below the basket, contributing six points to a 15:4 run. The teams went in at half-time with the score at 31:23.
Moors' team extended its lead to double digits (35:25) at the start of the third period, but was not able to seal the encounter. A 0:7 run was followed by a number of wild shots by the Latvian club, all of which wriggled their way into the net despite Bamberg's good defense. With eight minutes remaining, Riga had closed the gap to 46:43. It was once again steals that sparked a strong Bamberg spell: Michael Carrera robbed Xavier Thames of possession with his nimble fingers and passed to Retin Obasohan, whose lay-up made it 48:43. On the subsequent attack, Tre McLean threw himself at a pass from Riga's talent Arturs Kurucs, snapped up the ball and smashed a slam-dunk into the opposing side's basket – Bamberg had added four important points in the space of 20 seconds. And then Tre McLean put on a "three-pointer show" that sent the ten away fans wild: The American drained four buckets from beyond the arc in four minutes to help his side seal the game at 67:52 with three minutes left. Top scorer McLean added 14 of his total haul of 23 points in the final period and, with five rebounds, was also Bamberg's second-best player in that department behind Assem Marei (7)
Brose Bamberg's Head Coach Roel Moors commented: "We dominated the game well, but again had a few minutes where we weren't focused enough and let them get back into the game. But all it all, it was a good performance by us, especially in defense, since we forced them repeatedly to take tough shots. Some of them also dropped, but we kept cool and won deservedly in the end."
Bamberg now welcomes the Swabian club ratiopharm ulm for a game in the German league on Sunday, November 17, 2019. The encounter in the Brose Arena tips off at 8:30 p.m.
For more information visit www.brosebamberg.de, www.easycredit-bbl.de and http://www.championsleague.basketball/de.